316PLC™
A Simple choice with lifetime of results.
Enjoy cooking with 316PLC™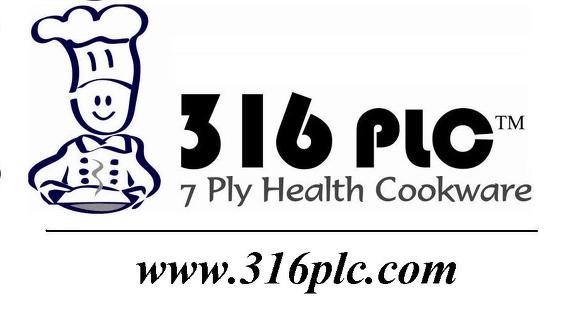 316 PLC™ Advantage
More time for family and things you enjoy:
316 PLC™ cooking system is engineered to cook so you don't have to. The enhanced full body 7-ply Thermal Core construction, unique to our cookware, distributes heat evenly. That means no pot watching or stirring. Meals are ready fast because food cooks from all sides, not just from the bottom. Our precision vapor seal creates a vacuum, locking in moisture and flavor. And, after dinner, our durable non-porous cookware is designed for fast, easy clean up.
Buy quality once, benefit for a lifetime…
316 PLC™ is an investment in quality demonstrated by our lifetime warranty. This cooking system saves your family time and money by using lower heat and less cooking time, which means lower energy bills. It encourages families to dine at home with faster, easier, tastier meals. With our minimum moisture, vacuum sealed cooking system, food shrinkage is reduced resulting in more bang for your grocery dollar.
Effortless healthy living…
Make health a priority in your home with highly nutritious and delicious meals. Superior heat distribution minimizes the need for moisture and heat thus maximizing vitamins and nutrients in your fruits and vegetables. And, with little need for grease and oil, low-fat cooking becomes effortless. The 316PLC 7ply surgical stainless steel with titanium is non-reactive, providing assurance that your cookware is safe and is not leaching chemicals or metals into your food.
Great flavor guaranteed…
Low-moisture cooking retains and maximizes the natural flavor of your food. Our vacuum seal ensures tender, juicy meats and lively, colorful vegetables thereby eliminating the need for butter, salts and other additives.
The Seven Layer Difference
By using advanced metal-working techniques and a 7-ply design on all sides, 316PLC™ has layered pure aluminum and the finest surgical stainless steel available to create cookware that is unequalled in efficiency and durability.
1. 316L Surgical Steel with Titanium and Molybdenum
Durable, beautiful, easy to clean, chemically non-reactive
2. 1145 Pure Aluminum:
Distributes heat evenly
3. 3004 Aluminum:
Optimum heat conductor spreads heat quickly and evenly
4. 1145 Pure Aluminum:
Distributes hear evenly
5. 304S Surgical Steel with Titanium:
Bonding layer, added strength
6. Ferritic Steel:
Allows cookware to be used on induction cooktops, retains heat
7. 304L Surgical Steel with Titanium:
Durable, beautiful, easy to clean
Easy Store Cover
Easy-store covers are perfect for any kitchen and every lifestyle.
Cookware easily stacks in the handle in an organized way.
Plus, the self-nesting design uses a minimal amount of space.
You'll never search for a cover again!
Moisture Seal
Engineered moisture seal locks in flavor, nutrients, and aroma.
-Helps prevent dry, tasteless food.
-Improves nutritional value of your meals.
-Cooks faster using less heat.
Tight seal prevents moisture escape.
Vapor Lock Whistle Switch
3-in-1 : Whistle, Lock, Vent
-The whistle indicates that your food has reached the proper cooking temperature.
-The vent setting switch allows you to release vapor.
-Choose the lock setting to lock in moisture, nutrients, and flavor.
Cool and Easy Grip Handles
Ergonomic handles created with your comfort in mind. Extremely durable, withstanding up to 350 degrees, the Cool Grip design eliminates the need for pot holders.
Oil Core Essentials
The oil core liquid is sealed between layers of a superior quality carbon core stainless steel to provide the ultimate in heat conduction.
- Eliminates hot spots
- Keep foods warm even after the skillet is unplugged
- Energy efficient
Goes from kitchen to table for serving convenience. Perfect for tailgating, potlucks and traveling.
Welcome Home … Dinner is Ready
- Stews
- Soups
- Pot Roasts
- Sauces
- Beans
- Rice Cooker
A Must For Every Kitchen
- Sear meats sealing in flavor
- Fry without grease/oil for heart-healthy meals
- Frozen to finished meals in less than 30 minutes
- Casseroles and lasagna in a third of the time.
- Stir-fry meats and vegetables
- Bake pizza, potatoes, vegetables, or rolls
- Poach fish or fruit
- Perfect for delicate seafood
Options
Prefer the sleek look of stainless steel? All of our cookware is available with stainless steel handles. Just ask!
316PLC™ vs. Store-Bought
316PLC™ is engineered and constructed of the finest quality materials in the industry. We combine 316L Surgical Stainless 7 ply full body construction, an engineered moisture seal, a tri-vent whistle, and some of the heaviest cover steel available to create a complete cooking system. This is not just another set of pots and pans. 316PLC™ cookware provides excellent heat conduction, a non-reactive surface that will not leach metals or chemicals into your food, and a minimum-moisture method of preparation. This state-of-the-art cooking system ensures highly nutritious foods that are flavorful and tender. In addition to maximizing time, saving money, and providing peace of mind, this high-quality cookware has a lifetime warranty.
316PLC™ … unlike all other options.
Non-surgical stainless steel cookware
- Poor heat distribution
- Must use oil or water
- Hard to clean
- Food can stick and burn
Non Stick-coated cookware
- Will typically scratch, chip, and flake
- Most brands are not dishwasher safe
- Can leach chemicals into your food
- Not recommended to use on high heat
- Fumes from overheated pans can be harmful;
Aluminum Cookware
- Very soft metal, can pit and warp
- Can leach into your food when cooking acidic foods, such as tomato sauce
- Many brands are not dishwasher safe
316PLC™, quality for a lifetime and more!
316PLC™: Unlike All Others
Many cookware companies advertise their cookware as multi-ply cookware. What they don't tell you is that it is only multi-ply on the bottom of the pan. This creates um-even heat distribution, and the need to use excess water to cook. 316PLC™ Cookware is 7-ply on all sides, which distributes the heat perfectly for true waterless cooking.
Lifetime Warranty
316PLC™ Cookware has manufactured your products to the highest standards. Each stainless steel part is unconditionally warranted against defective material and workmanship for the purchaser's lifetime and is transferable once. To transfer the warranty, simply send a copy of the original purchase documents and the new owner's name and address to 316PLC™ at the address below.
If a stainless steel part rusts, warps, chips, cracks, bends, melts or breaks, this is considered defective. Simply return the piece, postage prepaid, and we will repair or replace the item with an equivalent pan at no charge.
This warranty does not cover damage caused by misuse or alterations to the product. If a phenolic part(handle or knob) breaks or no longer functions, 316PLC™ will make a replacement without inquiry as to cause provided the purchaser pay a nominal fee for such phenolic parts.
This warranty gives you specific rights; and you may also have other rights which may vary from state to state.
If service becomes necessary, send the product along with a description of the claimed defect to your local authorized distributor or to:
316PLC™ Cookware
Customer Service Department
3700 Wilshire Blvd
Suite# 740
Los Angeles, CA 90010