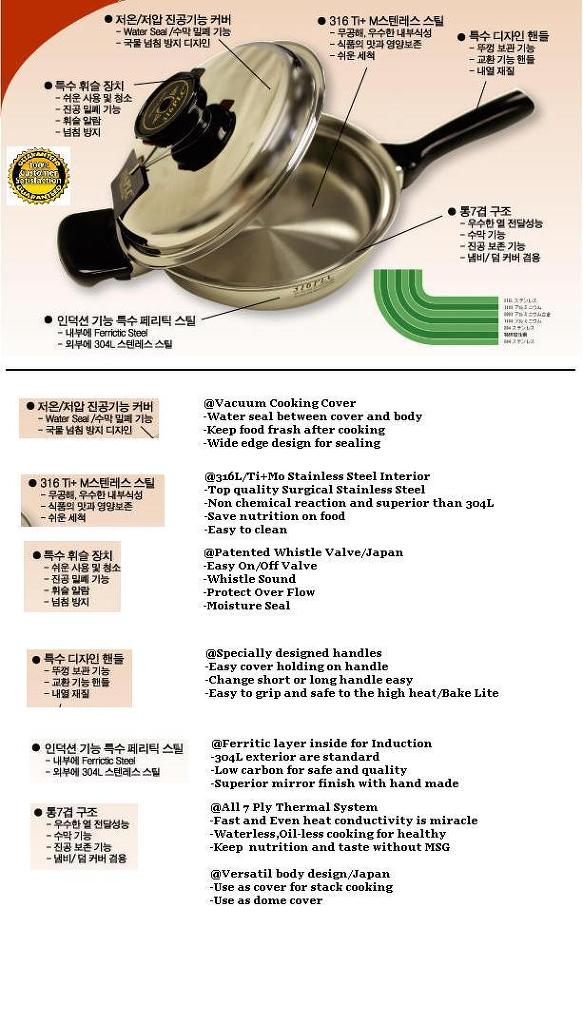 "316PLC" Healthy Cookware are not like others!

It has five main characteristics.

1) All 7-layered structure using new materials:
316PLC products are made of a 7-layer structure that uses a combination of aluminum, which has high heat conductivity, and a new type of stainless steel, which has high functionality. Experience the amazing heat efficiency, the delicious taste trapped within your dishes, and the unending self-improvement and luxury that these products provide you with.

2) New materials of impressive functionality:
316PLC products contain two types of stainless steel that offer high functionality.

a. 316L stainless steel. Also known as surgical stainless steel, it is often used in medical instruments. By using this advanced material with world-class resistance to corrosion, 316PLC has succeeded in creating cookware that boasts long-lived performance.

b. 304 stainless steel. This steel is very hard and resistant to corrosion, and thus maintains a gloss and luster that is second to none. 316PLC has cleverly used this material on the surface to make its products strong against hits, scratches, and corrosion.
c. Ferritic Steel is used for the best heat efficency with IH,Gas,Electric and Halloge Cooktop.

3) Boiling Whistle:
316PLC products come installed with ultra-sensitive steam sensors that catch the steam produced when the contents of the pot start to boil, which triggers a whistle that attracts your attention wherever you are. The high heat efficiency of the 316PLC products allows you to simply close the whistle and set your heat source to "low" following the sound of the alarm, thus being more energy efficient and eco-friendly while avoiding the risks of the contents overflowing.

4) Water sealing effect:
Much steam is created during cooking. 316PLC products have been intelligently designed so that this steam accumulates between the pot and the lid, creating a layer of water that seals off the inside from the outside and does not allow heat or moisture to escape. This helps create an ideal cooking atmosphere within the pot, and makes it possible to cook without excess heat, water, or pressure.

5) Increased simplicity and speed:
The high heat tolerance and hardness of the materials used make 316PLC products less likely to char and dent. Such toughness makes cooking with and tidying of these pots and pans faster and easier. They are bound to make your everyday life in the kitchen more fun and stylish.



Enhance taste, maintain nutritional value, and be eco-friendly all at once with these professional and durable pots and pans.
The "316PLC" uses intelligent technology to make the most of the liquids contained in vegetables, allowing you to cook without excess water and thus preventing the escape of vitamins and minerals that are susceptible to water and heat. Such efficient cooking comes from the high heat conductivity and moisture-retaining qualities that these pots and pans boast. These features are essential not only for cooking that is healthy to your body but also for cooking that is healthy to the environment, as they allow for more speed and energy efficiency in the kitchen.
These pots and pans are multifunctional too. For example, if you use a smaller size pot as a lid for a larger size pot, these two works together to function as an oven. The high heat conductivity will no doubt make this little oven a valuable partner of yours as you cook grilled dishes and desserts.
Pots with Two Handles: A medium-sized pot with two handles that is useful for cooking curry, stew, and other boiled dishes. Comes with a lid, which makes it easy to cook steamed foods as well.
Frying Pans: A useful frying pan that can also be used as a shallow pot. In addition to stir-fries and such, use this pot to cook sauces and soups, and speed up and optimize your cooking experience!
Please contact us for further inquiries!

In response to the increasing trend of making all parts of the house, including the kitchen, electric, IH cooking heaters have enjoyed tremendous popularity in USA, with annual sales increasing by one million products. We are looking for business and sales partners for our IH-recommended original cookware. We are confident that our business will lead to increased profits and customer satisfaction for any company that already handles similar products. Of course, we are also open to industrial and personal purchases.
Please do not hesitate to contact us when you have any question at email comyang01@yahoo.com or Call me at 213-798-6659.