NAD+ Cell Regenerator / Life Extension
NIAGEN / Nicotinamide Riboside 100 mg
NAD+ Cell Regenerator™
100 mg, 30 vegetarian capsules
Item Catalog Number:

01904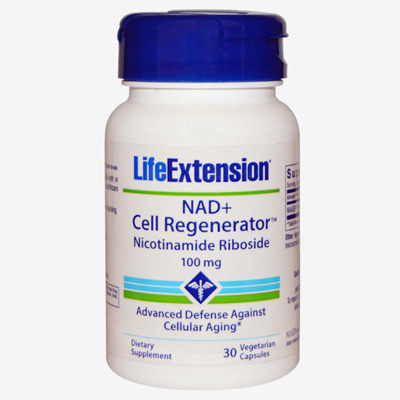 If you are experiencing fatigue and lack of motivation, it may be due to the age-related decline in NAD+ levels1 and subsequent impairment of healthy cellular metabolism.2 NAD+ (nicotinamide adenine dinucleotide) promotes systemic youthful functions and is found in every cell in the body.3 In addition, NAD+ plays an essential role in regulating genes4,5 that control aging.6
How To Boost NAD+ Levels Within Your Cells
Newly patented nicotinamide riboside increases cellular levels of NAD+ in the body.7,8 For the first time, aging humans have an effective and affordable method to boost the critical NAD+ enzyme for refreshed vitality. Nicotinamide riboside represents an innovative advance to combat aging that functions via unique mechanisms not found in typical dietary supplements.
Multiple Benefits Of Increasing NAD+ Cellular Levels
Nicotinamide riboside has been documented to help replenish cellular NAD+ and in the process:
Promote sirtuin (SIRT1 and SIRT3) gene activation,6
Enhance growth and efficiency of mitochondria—supporting energy levels and physical performance,6
Favorably modulate metabolism,6
Contribute to neuronal health—supporting cognitive function during aging,9-11
Promote insulin sensitivity—supporting healthy blood sugar levels in those within the normal range.6
Note
Due to license restrictions, this product is not for sale to doctors and MLM wholesalers in the USA, Canada or the Philippines.
References
1. PLoS one. 2012;7(7):e42357.
2. Cell. 2013 Dec 19;155(7):1624-38.
3. PLoS one. 2008 May 21;3(5):e2267.
4. Cell. 2007 May 4;129(3):473-84.
5. Nature. 2000 Feb 17;403(6771):795-800.
6. Cell Metab. 2012 Jun 6;15(6):838-47.
7. Curr Opin Clin Nutr Metab Care. 2013 Nov;16(6):657-61
8. EMBO Mol Med. 2014 Apr 6;6(6):721-31.
9. Neurobiol Aging. 2013 Jun;34(6):1581-8.
10. J Neurosci. 2006 Aug 16;26(33):8484-91.
11. Front Biosci. 2007 Jan 1;12:1863-88.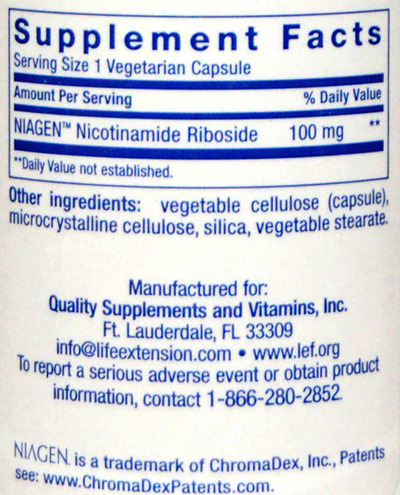 Serving Size 1 vegetarian capsule /

Amount Per Serving

NIAGEN® Nicotinamide Riboside

100 mg

Other ingredients: microcrystalline cellulose, vegetable cellulose (capsule), silica, vegetable stearate.
Non-GMO
NIAGEN® is a registered trademark of ChromaDex, Inc., Patents see: www.ChromaDexPatents.com.

Dosage and Use
Take one (1) capsule daily with or without food, or as recommended by a healthcare practitioner.
Nicotinamide Riboside does not cause flushing.
Warnings
KEEP OUT OF REACH OF CHILDREN
DO NOT EXCEED RECOMMENDED DOSE
Do not purchase if outer seal is broken or damaged.
When using nutritional supplements, please consult with your physician if you are undergoing treatment for a medical condition or if you are pregnant or lactating.
To report a serious adverse event or obtain product information, contact 1-866-280-2852.
Type 2 diabetes (T2D) has become epidemic in our modern lifestyle, likely due to calorie-rich diets overwhelming our adaptive metabolic pathways. one such pathway is mediated by nicotinamide phosphoribosyltransferase (NAMPT), the rate-limiting enzyme in mammalian NAD+ biosynthesis, and the NAD+-dependent protein deacetylase SIRT1. Here, we show that NAMPT-mediated NAD+ biosynthesis is severely compromised in metabolic organs by high-fat diet (HFD). Strikingly, nicotinamide mononucleotide (NMN), a product of the NAMPT reaction and a key NAD+ intermediate, ameliorates glucose intolerance by restoring NAD+ levels in HFD-induced T2D mice. NMN also enhances hepatic insulin sensitivity and restores gene expression related to oxidative stress, inflammatory response, and circadian rhythm, partly through SIRT1 activation. Furthermore, NAD+ and NAMPT levels show significant decreases in multiple organs during aging, and NMN improves glucose intolerance and lipid profiles in age-induced T2D mice. These findings provide critical insights into a potential nutriceutical intervention against diet- and age-induced T2D.
자료제공 : 미국직송 건강식품 아이헬스라이프 www.iHealthLife.com