스마트폰보다 큰 시장인 지문카드 시장 규모와 본격 개화는 언제일까?

이 글은 시장에 몸담고 있지 않은 아마추어의 글로 오랫동안 시장을 지켜본 결과로 작성되지 않았으며

며칠간의 인터넷 검색과 개인적인 의견으로 실제 시장현황과 다를 수 있으니 이점 유념하고 보시길 부탁드립니다.
2020년 2월 19일 유럽 증권사 분석가 보고서: Redeye, 노르웨이 Zwipe보고서가 나왔으니 이를 참조하시기 바랍니다.
http://blog.daum.net/serapeum/7594974

지문카드 시장 규모 예상치
Nordea: around 220 million 2023E Zwipe: 500 million 2022E Goode Intelligence: 579 million 2023E
Edgar Dunn & Company: 370m 2022E Next Biometrics: 800 million 2023E
IDEX: 533m 2023E
ABI Research: 76m 2022E, 172m 2023E
1년이상 시장을 모니터링하지 못했지만 검색하며 느끼는 것은 가장 적은 수치인 172m장 이하일 것으로 판단.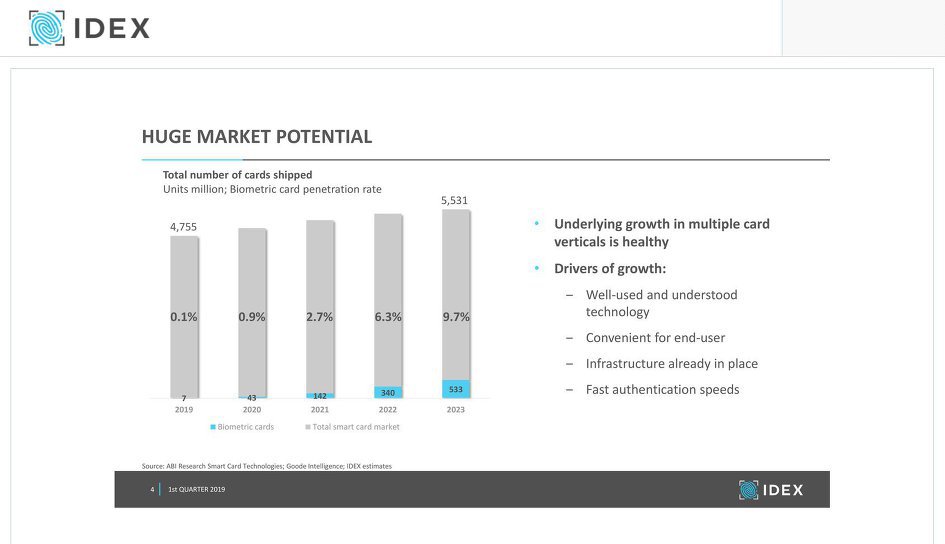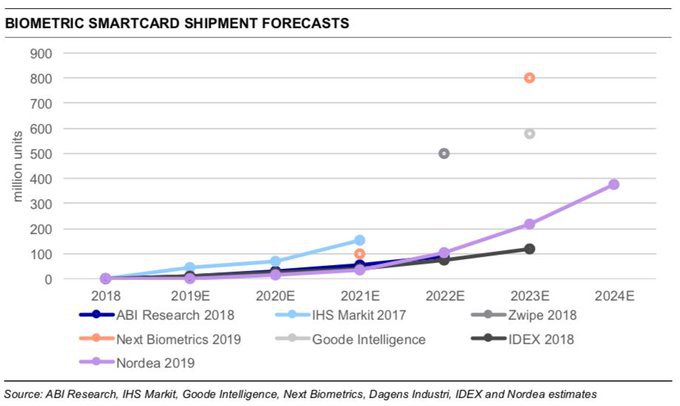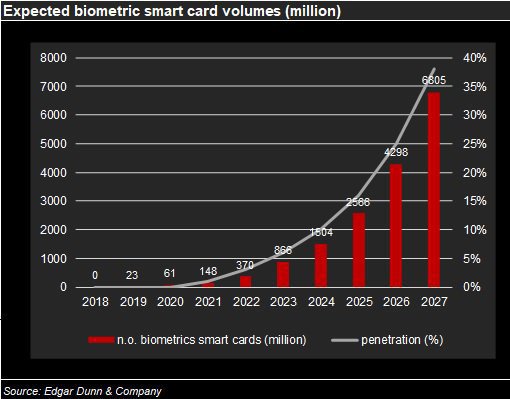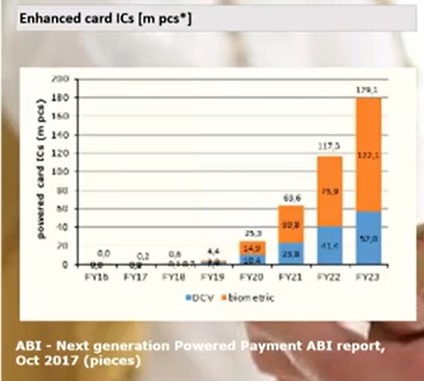 2020년: 14.9m, 2021년:32.8m, 2022년: 75.9m, 2023년: 172.1m

IDEX발표치는 이를 인용했지만 ABI Research의 2018년 자료를 구하지 못했다.
아직 시장이 올해 1백만장 이상 출하되었다고 보기 어렵다. 수십만장 규모로 추정한다.

다만, 내년 영국, 프랑스 소재 은행이 먼저 상용화되고 일본 올림픽에서 이용된다고 해도 그 규모는 5백만장 이하가 보이는 시장 현황이다. 영국, 프랑스 은행도 내년 하반기 가야 대량생산된다고 하는데 그 규모는 알려진 바 없다.

FPC CEO는 작년 9월 6일 인터뷰에서 올해 수백장만장, 2020-2021년 수천만장 규모를 예상한 바 있다.
http://blog.daum.net/serapeum/7594828

스마트폰 시장은 2015년 2Q부터 본격적인 개화가 아래와 같이 확연하게 읽혔지만 스마트카드 시장은 아직 읽히지않거나 느낌, 감이 없다. 당시 같은 역동적인 속도감을 느낄 수 없다. 전체적으로, 계속 개화 시기가 약 2년간 순연되고 있다는 느낌을 받고 있다.
http://blog.daum.net/serapeum/7592785

http://blog.daum.net/serapeum/7592984
위의 ABI Research 자료는 2017, 2018년 발표된 것으로 나오는데 수치에서 큰 변동이 있는지 IDEX에서 이를 인용하여 프리젠테이션 자료에 인용하였으나 그 구체적인 자료를 입수하지 못했다.

2017년 ABI Research자료
2020년: 14.9m, 2021년:32.8m, 2022년: 75.9m, 2023년: 172.1m

2018년 ABI Research자료 인용 IDEX 자료
2020년: 43m, 2021년: 142m, 2022년: 340m, 2023년: 533m로 수치에 큰 차이가 있다.
확실한 것은 이전 글에도 언급했듯이 지문카드 시장이 열린다면, FPC, IDEX 2강 체제에 대만 Elan, Next Biometrics, 중국 DMT(Datang Microelectronics Tech.) 3약 체제를 예상했는데 지금 싯점에도 변화가 없다. 중국 시장은 UnionPay가 자국 센서(DMT)나 Guoxin Microelectronics(紫光国微)에 특혜를 줄 경우를 제외하고는 현재 FPC, IDEX가 글로벌 시장과 마찬가지로 주요 중국 카드 제조업체와 솔루션업체와의 제휴상태를 볼 때 강세를 예상한다.
중국 스마트폰 시장의 강자인 Goodix는 개인적으로는 전력소모등의 이유로 스마트카드 시장에서는 진입이 어려울 것으로 예상했으나 알아본 바에 의하면 오래전에 전해드렸듯이 처음부터 스마트카드 시장에 관심을 보이지 않았다. 그 이유는 중국은 스마트폰을 이용한 온라인/오프라인 결제시장이 발달되었기 때문이다.
글로벌 시장은 Gemalto, IDEMIA(Thales-탈레스로 개명)등에 의해 주도되고 있으나 중국에서 보듯 각 나라마다 주요 공급업체가 있을 것이다.
특이한 것은 거의 모든 주요 공급업체가 FPC, IDEX와 복수 또는 FPC이 비중이 높은 제휴를 하였는데 최근에 Zwipe와 제휴를 늘리고 있는 것이다. 이것은 Zwipe가 가진 NFC 자기장을 이용한 배터리 없는 지문카드 특허때문으로 보인다. Zwipe는 최근 카드용 저전력 칩도 발표한 바 있다.
국내업체도 코나아이, 한국스마트카드아이디(KSID), 라이온시큐리티, 마늘랩, 동운아나텍, 크루셜텍, 에어큐브, 센스톤등 10여개 이상의 기업이 위 센서업체와 제휴를 통해 시제 카드를 개발하고 진입준비를 마친 것으로 파악되고 있다.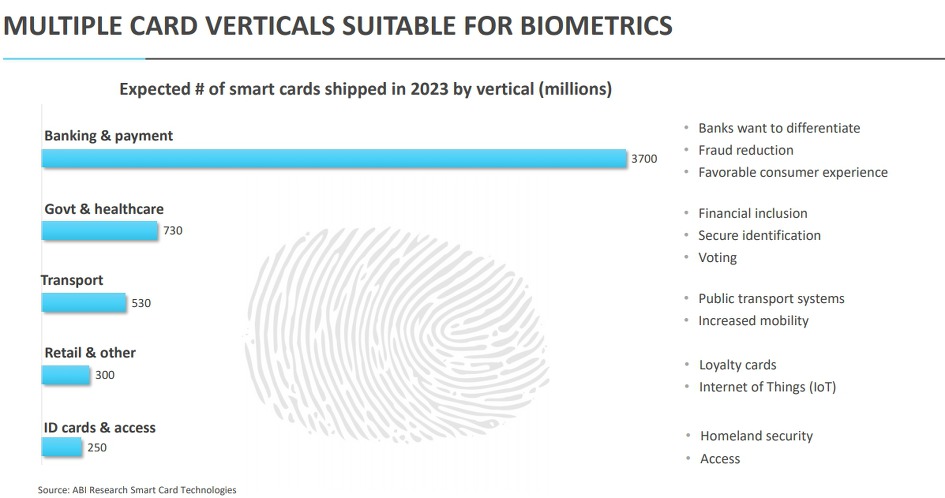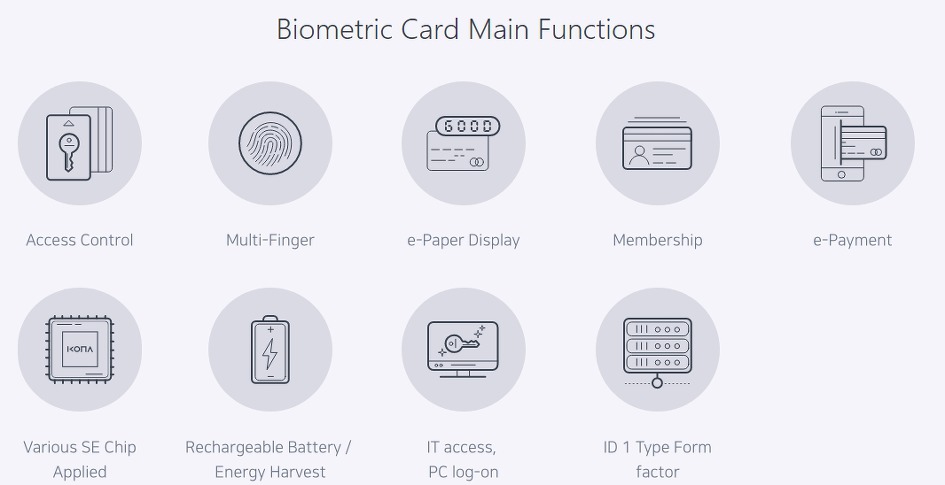 https://konai.com/business/cards/card?lang=en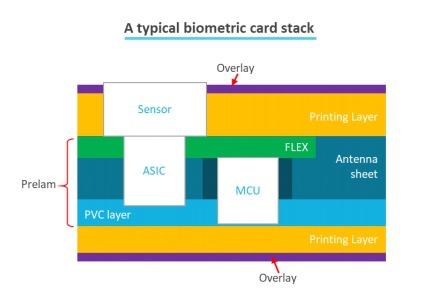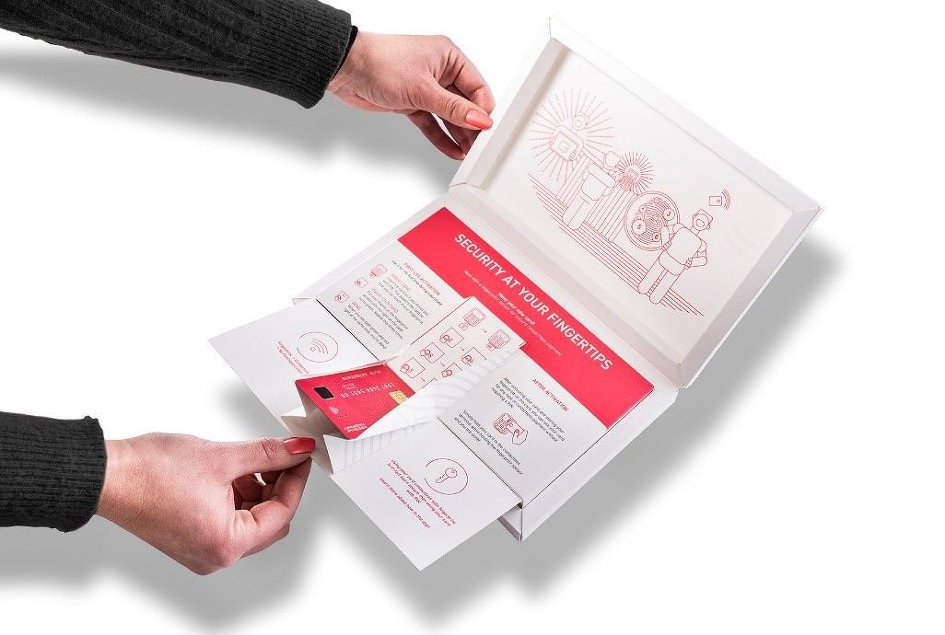 FPC 제작: 지문카드 소지자에게 배달된 도구상자(Toolbox)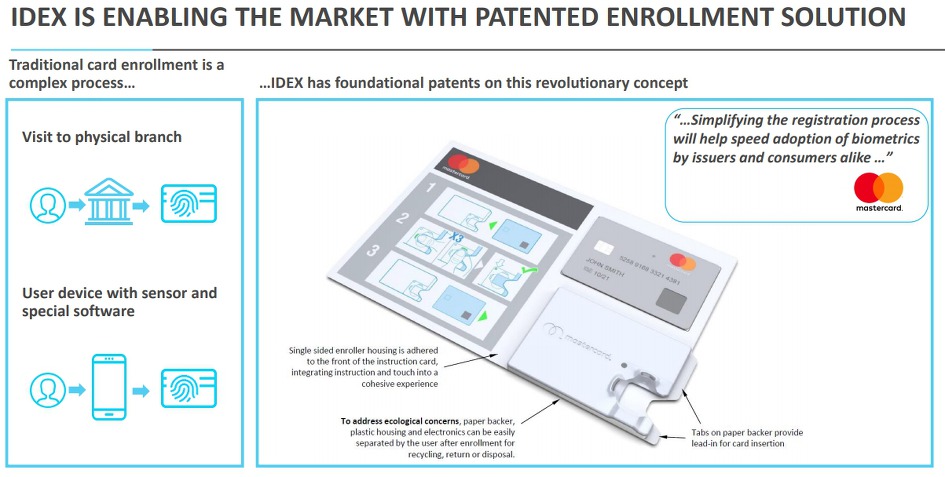 IDEX 제작: 지문카드 소지자에게 배달된 도구상자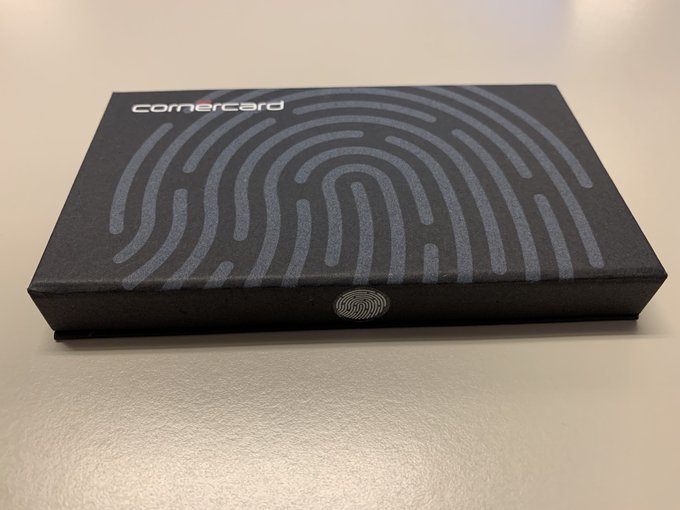 11월 21일, 스위스 은행 CornerCard(VISA-Gemalto 협력)에서 100명 제한으로 발송된 도구상자와 지문 카드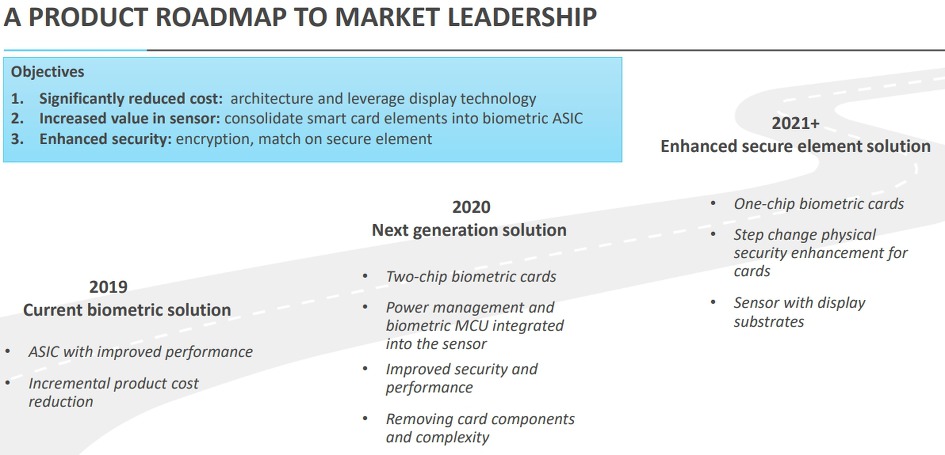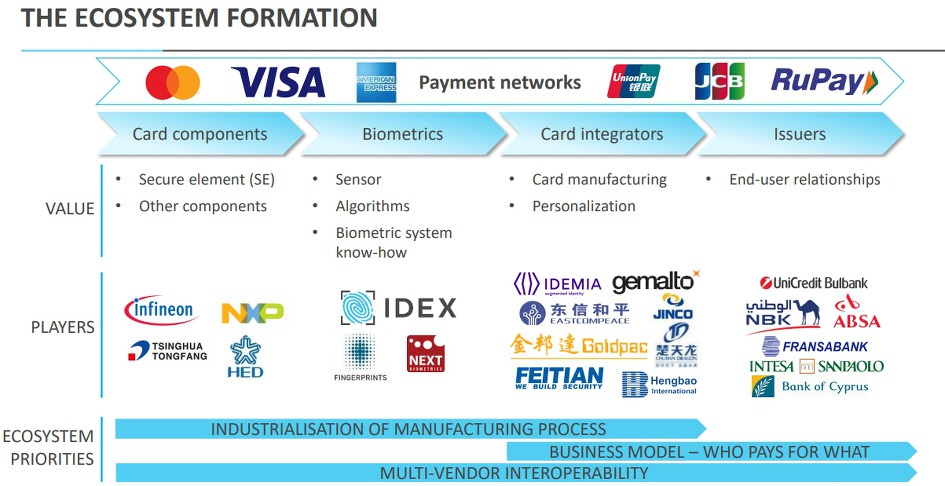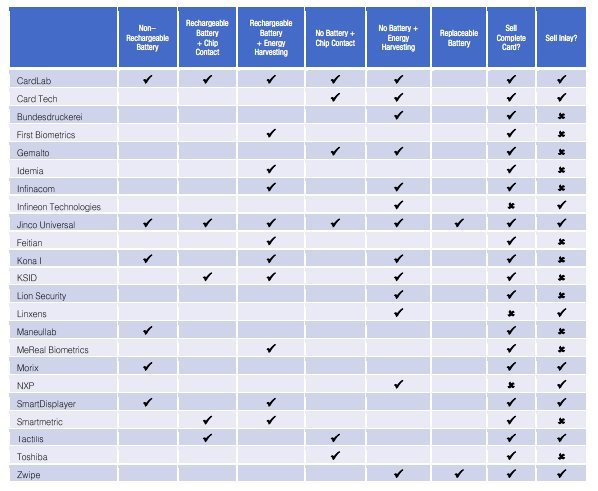 주요 지문카드 관련 통합 솔루션 제공 업체, 중국업체(위 IDEX발표 자료에 있음)는 빠져 있음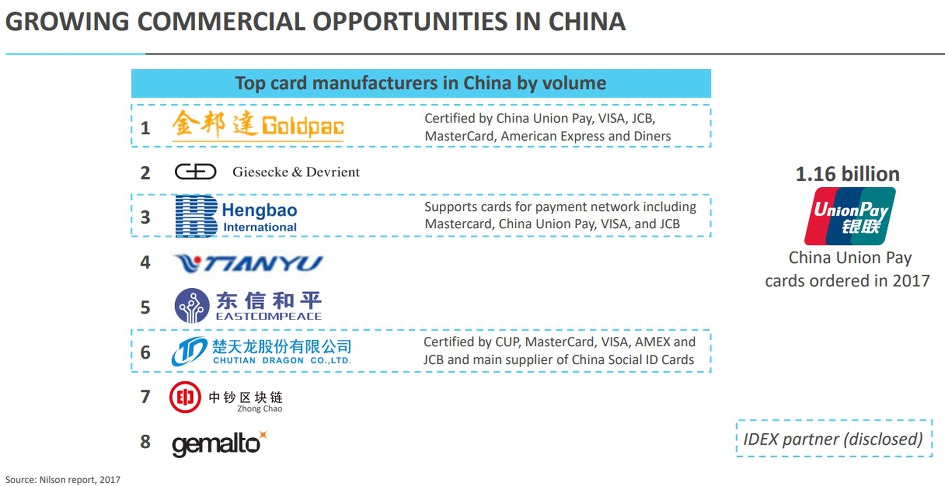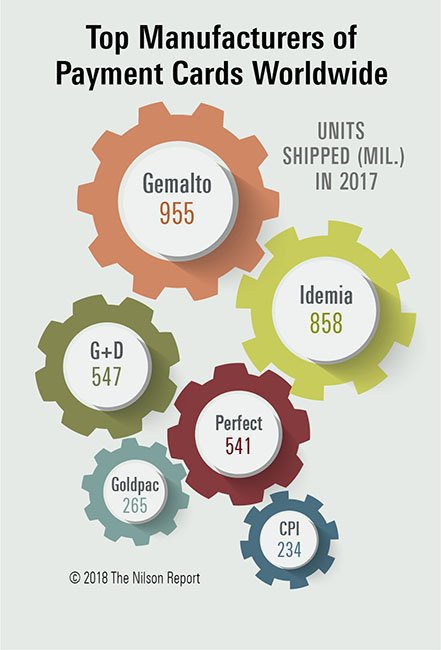 https://nilsonreport.com/publication_chart_of_the_month.php?1=1&issue=1139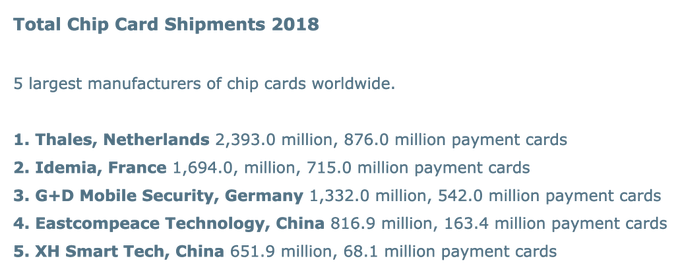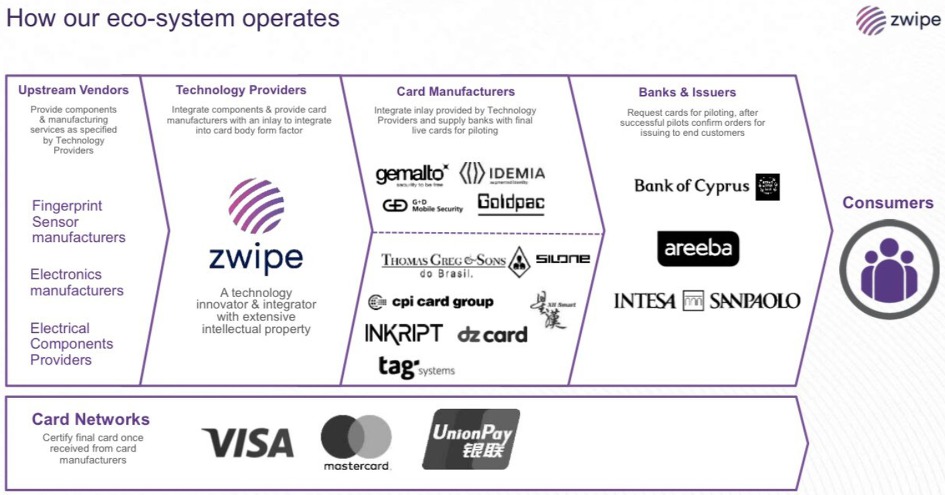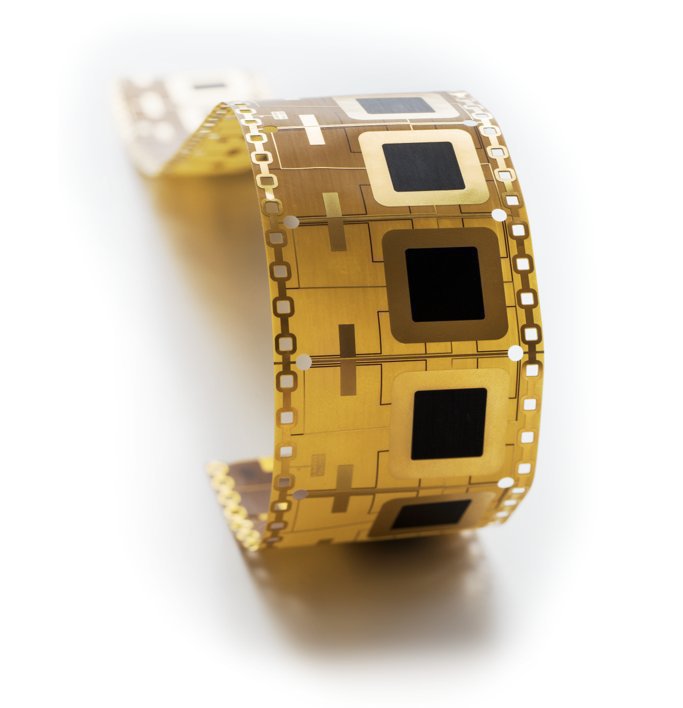 카드용 FPC 1321 T-Shape 모듈, 대량생산 준비 완료

FPC는 프랑스 업체와 공동으로 기존 스마트폰 지문모듈 업체에 의한 생산방식이 아닌 완전 자동화, 대량생산 체제를 마련한 것으로 해석
FPC는 22개 은행(11월 21일 스위스 1개 은행 추가)과 Pilot/Test 진행중,
IDEX, Elan과 Next Biometrics를 포함하면 30여개 이상이 시험중인 것으로 예상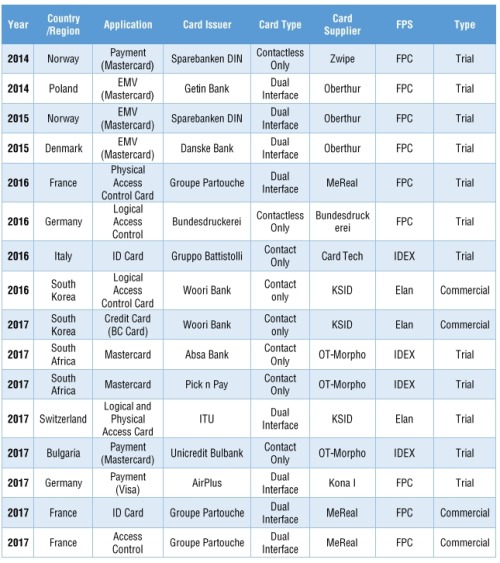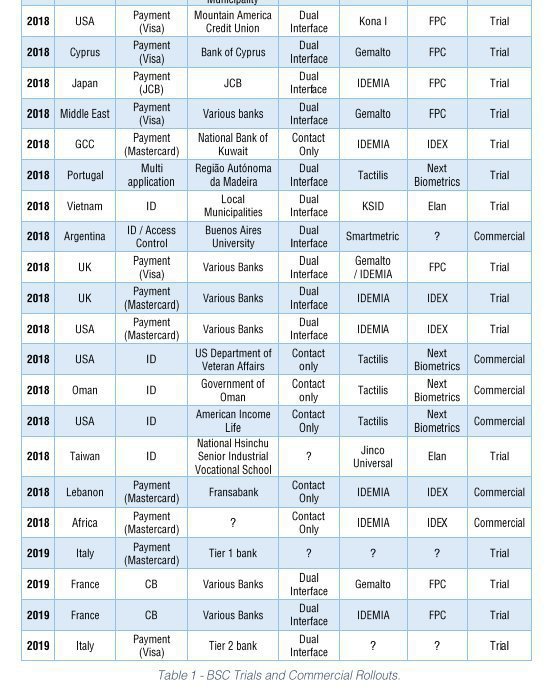 Biometric Payment Cards White Paper ver 1.0, March 2019

https://www.securetechalliance.org/wp-content/uploads/Biometric-Payment-Cards-WP-FINAL-Mar-2019.pdf

Smart Cards and Biometrics, March 2011

https://www.securetechalliance.org/resources/pdf/Smart_Cards_and_Biometrics_030111.pdf

Smart Cards and Biometrics in Healthcare Identity Applications, May 2012

https://www.securetechalliance.org/resources/pdf/smart-cards-and-biomertics-healthcare_051112.pdf

p.s
현재 4~5$ ?, 지문센서가 대량생산(2022~2023년 ?)하에서는 2$내외로 떨어질 것으로 예상됨.
기업 or 가정으로 배달되는 지문카드 배송 도구상자 제작 비용도 포함되야 할 듯.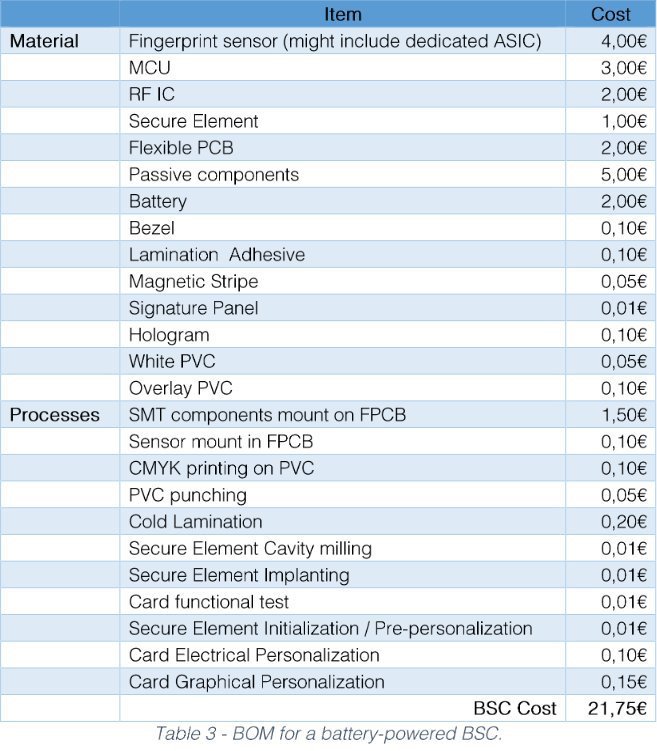 2019년 2월 Nordea의 FPC보고서 인용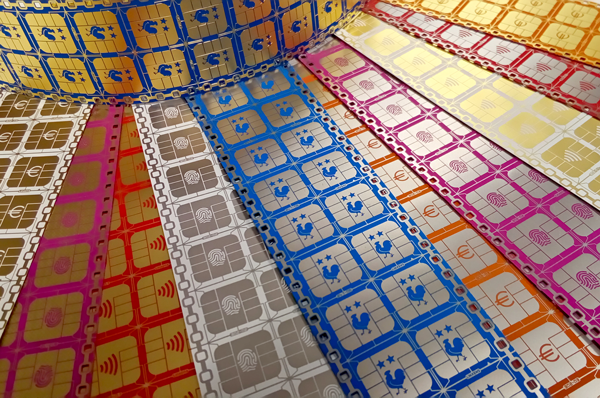 지문모양이 새겨진 Linxens EMV 칩 SE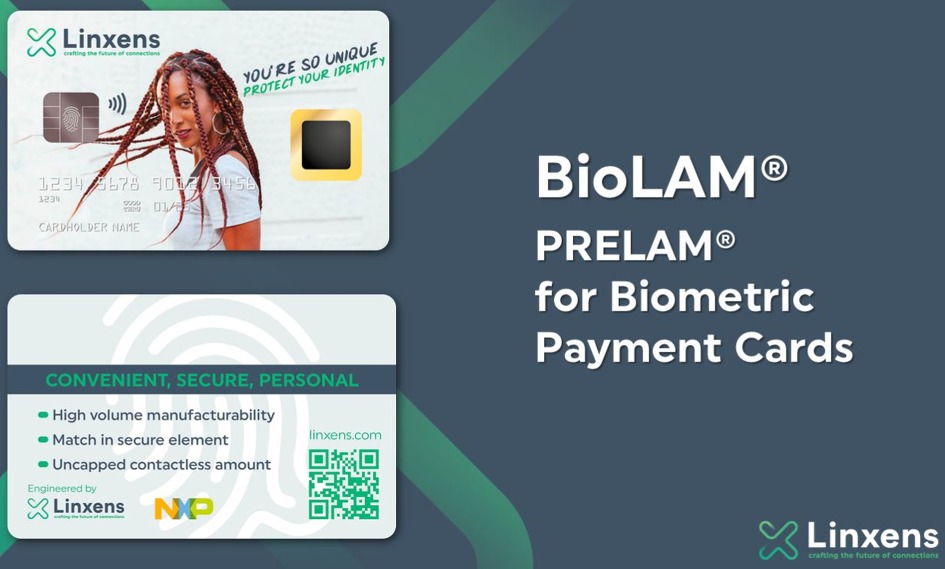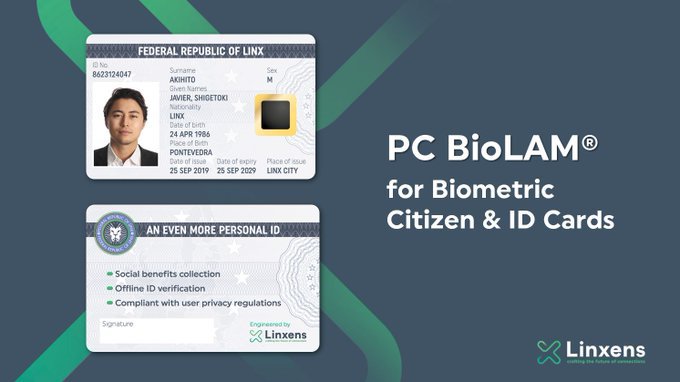 Trustech2019에 전시될 예정인 Linxens BioLAM 지문카드

https://twitter.com/Linxens/status/1222079343452655616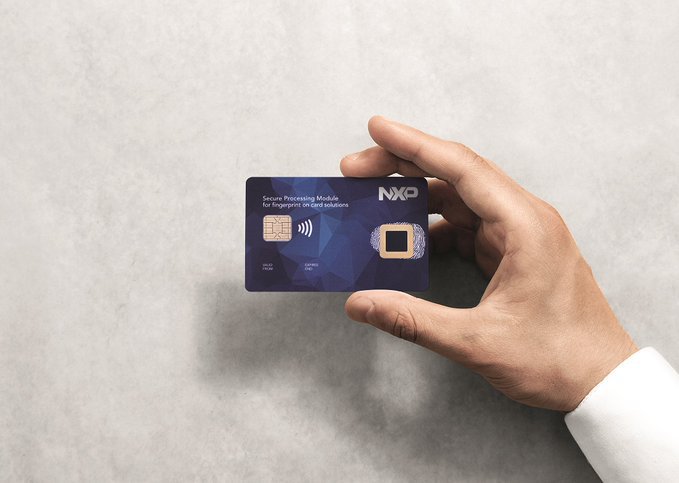 Trustech2019에 전시된 NXP의 지문카드

Check out this enrollment and payment demo of our dual-interface #biometric card at #Trustech2019

https://twitter.com/i/status/1199642078021668864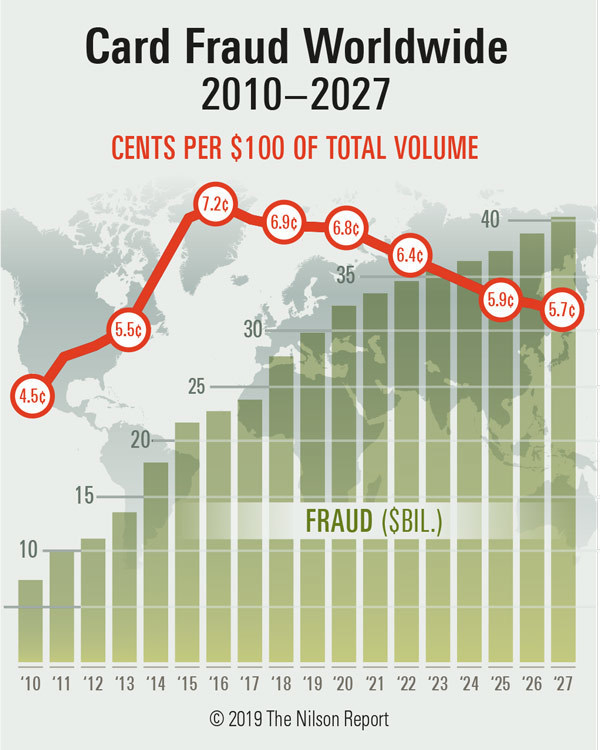 https://www.prnewswire.com/news-releases/payment-card-fraud-losses-reach-27-85-billion-300963232.html

IDEX Biometrics 2020 Predictions

https://www.fintech.finance/01-news/idex-biometrics-2020-predictions/

At IDEX Biometrics, we're seeing the potential for a lot of growth in the biometric payment card and access control markets for 2020. We expect to see positive developments in manufacturing and certification of biometric payment cards, thanks to increasing consumer demands for secure payments. It's my strong belief that both the biometric payment card and access control markets will fully materialise in the coming year. Therefore, my predictions for the biometric industry in 2020 are:
APAC will lead the way in biometric adoption
Biometric payment technology will become increasingly necessary to combat payment fraud in 2020. It looks like Asia will be leading the way in this field, in terms of adoption, production and implementation. The coming year will be pivotal as we start to see certification for the biometric payment card take off across Asia.
IDEX is also excited to see growing interest from Australasia. We expect to be introducing biometric smart cards there in 2020 with Quest Payment Systems, Australia's largest payment technology supplier.
European regulation will drive innovation
Delays to the Strong Customer Authentication (SCA) ruling will prove a key driver for biometric adoption in 2020. The use of biometric payment cards to authenticate online payments will offer an important way for retailers to balance security measures that comply with the SCA regulation whilst also delivering ease-of-use for the consumer.
Contactless payment limits will disappear
Thanks to advancements in biometric fingerprint authentication technology, payment security no longer comes at the cost of convenience. Next year, increased fingerprint biometric authorisation will secure payment cards, removing the need for PINS and reducing the need for the £30 payment limit, all while making the transaction process faster.
Young consumers will demand biometric adoption
Regulation aside, it will ultimately be people power that propels biometric payment technology to mass adoption. We already know that Generation Z will make up 40% of all consumers by 2020. So it's important to acknowledge that they expect to be using new, secure biometric technology for increased payment security and convenience. Our latest research found 62% of Generation Z think all banks should offer biometric payment cards to help reduce fraud. In response to this demand, banks will have to introduce fingerprint biometric payment cards to keep young customers, protect users from fraud and build trust with the consumers of tomorrow.
Financial inclusion will come to the fore
1.7 billion adults remain unbanked today. 2020 is the year this will have to change. Payment methods must be accessible and come at an affordable cost for all consumers. In the coming year, fingerprint authentication cards will eradicate a number of obstacles that stand in the way of financial inclusion. Consumers can be linked directly to their card by their fingerprint alone, supporting those without official identification, while home enrolment devices also save individuals from having to leave the house to register. This will allow consumers to hold on to financial independence for longer, no matter their physical or financial restraints.
Card-not-present fraud will be tackled head-on
The next crucial step for IDEX Biometrics and the wider industry will be to tackle card-not-present (CNP) fraud effectively. Biometric payment cards have the potential to strengthen online payment security and SCA compliance for e-commerce retailers. The addition of a digital dynamic Card Verification Value (CVV) number on the card, for example, will present a new one-time code whenever the card owner's fingerprint is presented on the card – making online payment fraud a thing of the past."
Stan Swearingen, CEO of IDEX Biometrics
Report from Next-Generation Cards 2019 in Singapore - See you next year!
Who was there
The success of this unique industry event was reflected by the leading technology providers for the new era of payment and identity card solutions that came from across Asia and around the world to participate in Next-Generation Cards 2019:
Delegates came from the global card industry, including card solutions providers (IDEMIA, Giesecke+Devrient, VALID, WatchData, UBIVELOX, ZC Microelectronics …), inlay, module (Linxens, SPS, …) and chip manufacturers (STMicroelectronics, Infineon, NXP, Sony, …).




The three biometric sensor manufacturers (IDEX, Next Biometrics, Fingerprint Cards) now driving the market for biometric cards joined the conference, together with leading biometric card technology companies (Zwipe, Precise Biometrics).




New entrants to the card business, such as NGK Insulators - card batteries, Riot Micro - connected cards, and Interactive Cards - innovative volume manufacturing for next-generation cards) also exhibited and spoke in the conference.
International payment systems
Senior executives from Mastercard, Visa and JCB with responsibility for EMV biometric contactless payment cards and dynamic code display cards for online payments attended both days of the conference. Mastercard and Visa discussed standards, functional specifications and approval processes for next-generation card products.

The biggest change to cards in over 10 years
The conference focuses on the most important changes to payment cards since EMV contactless payment cards were introduced more than 10 years ago. Over the last 12 months biometric cards have transitioned from an emerging technology to certified EMV payment card products and dynamic code display cards have been launched in every global region. Industry experts discussed the next steps for building a volume market for next-generation cards.
The Focus for Disruptive Innovations in the Cards Business
What people said about the conference:

1. The already positive outlook for payment cards is now being accelerated by a number of factors that include migration to contactless cards, the growth of domestic card schemes, new cardholders in developing markets and a growing number of new entrants not traditionally in the card issuing business that see the value of issuing payment cards.

2. Mobile payments and digital channels are expected to increase but this will take time. Mobile and particularly mobile QR is not a perfect fit in all applications and scenarios. The payments industry understands that consumers should be offered the choice of a variety of payment solutions. Payment cards will continue to be an important form factor.

3. Mobile-focused e-payment, wallet and fintech companies are realising the limitations of a single payment channel and looking to issue payment cards. Driven by regulators, the number of challenger banks and virtual banks is increasing across Asia and are also creating a new category of payment card issuers.

4. Industry development of next-generation card solutions is now yielding results as products are launched into the market. Biometric smart cards now have real momentum and have been launched in retail payments, identity, financial inclusion and access control. Dynamic code verification card products have been launched in every global region.

5. Biometric EMV contactless payment cards prevent fraudsters from making payments on lost and stolen cards and remove the adverse media coverage and customer concerns raised by fraudsters on stolen card spending sprees. They also eliminate the possibility of so-called contactless skimming scams and related hacker claims.

6. Biometric cards pave the way for high value contactless card payments. Today it is difficult or impossible for cardholders to make higher value EMV contactless card payments; PIN is not an intuitive fit with a contactless tap. Biometric on-card CVM supports EMV contactless card payments of any ticket size.

7. In contrast to EMV migration and the introduction of contactless payments, biometric payment cards require no changes to existing POS infrastructure. Cardholders can immediately begin using their fingerprint instead of their PIN, as they have already learned to do with their smartphones, to verify their identity with every transaction.

8. The conference explored the important subject of customer enrolment for biometric cards. The range of options includes in branch, at payment terminals, using a mobile device and app, or using a self-enrolment device. Industry focus is currently on disposable self-enrolment devices that are delivered to customers with the card.

9. Biometric payment cards require no changes to existing payment infrastructure but biometric on-card enrolment is a completely new experience for customers. Development of self-enrolment devices for biometric cards as well as supporting market and customer education will be critical for successful rollouts.

10. Biometric payment cards will need to deliver an optimal consumer experience from the first time the customer touches the card. An intuitive, efficient and reliable customer enrolment experience is a prerequisite for customers making their first successful biometric payment card transaction.

11. Cellular modems can now be integrated into next-generation payment cards. The advent of online smart cards opens up new use cases and applications not conceivable just a few years ago. An always online and connected biometric card has already been developed to offer new capabilities to address CNP fraud and to handle both online and off-line security.

12. Cards with mobile connectivity will enable customers to use their biometric cards to shop online. When prompted to authenticate, the customer touches the fingerprint sensor on their biometric card which uses the EMV 3-D secure protocol to send an encrypted message with the result of the biometric authentication to the issuer, which then approves the transaction.

13. The cost of biometric smart cards today is a factor, but not a barrier to their success. The critical success factor is the availability of technology. The answer to this is the industrialisation of the manufacturing process which will then lead to multiple manufacturers and in turn to volume manufacturing.

14. Retail banking is the primary market for biometric smart cards, followed by financial inclusion, access control and eID. Cards are a direct, issuer-branded, link to the customer. Next-generation cards offer bank and payment card issuers an opportunity to acquire new clients, increase revenue, become top of wallet and position themselves as an innovator in consumer payments.

15. Go-to-market strategies for biometric cards can focus on a combination of benefits including improved customer experience, greater convenience, stronger security or the technology cool factor. The increased security of a card product that can only be used by the genuine cardholder brings significant additional value to all applications.

16. Most go-to-market strategies will benefit the issuer as well as the cardholder. Improving the customer experience of cross-border travellers through the ability to identify the genuine cardholder every time they make a payment means that issuers will be able to avoid the risk of rejecting valid transactions while their customers are travelling.

17. Industry perception today is that Mastercard has been more active in driving biometric payment cards; they have been involved in almost all the biometric payment card pilots and launches around the world to date. Visa is now increasing their focus on the segment of biometric payment cards will become more proactive in this market from 2020.

18. Visa has been more focused on the development of solutions for dynamic code verification (dCVV) cards to address card-not-present fraud. The dCCV solutions are cards with displays that enable dynamic card security codes to be displayed on payment cards and updated at regular intervals, providing greater assurance that the card is in possession of the user.

19. ISO standards for biometric smart cards are well developed with standardisation activities beginning in 2002. Application-level specification work on biometric EMV payment card products began more recently and is still being progressed by the international payment schemes to create certified products that can be delivered to market.

20. By Q1 2020, both Mastercard and Visa expect to publish their specifications for biometric contactless cards. This will enable biometric card products from both schemes to be tested and certified as being compliant with the specifications. This is a key requirement for issuers to launch products into the market.
중국, QR 버리고 생체인증으로 간다
중국 QR코드 사용에 대한 최근 뉴스를 보아도 중국이 QR 버리고 생체인증으로 간다는 제목과 내용중 일부는 해석이 잘못된 곳이 몇군데 보인다. 이 기자가 정보원으로 삼은 분의 개인적 의견을 바탕으로 쓴 기사로 보인다.
중국 BCTC 시험인증은 중국 업체를 비롯해서 여러군데 받았고 FPC는 2018년 부터 시장 1위를 Goodix에 내 주었고 올해는 3위로 떨어질 가능성이 높아 보인다.
카드 지문 시장은 올해 하반기 상용화 규모가 파악한 후 보아도 될 정도로 뜨거움이 느껴지지 않는다.
업체들 준비는 끝났고 소비자들 기대는 좋지만 은행이 상용화 규모가 아직은 VIP 제공에 그치고 있다.