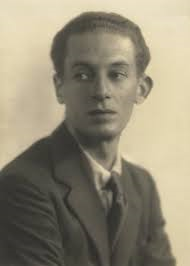 Sir Cedric Lockwood Morris, 9th Baronet (11 December 1889 – 8 February 1982) was a British artist, art teacher and plantsman. He was born in Swansea but worked mainly in East Anglia. As an artist he is best known for his portraits, flower paintings and landscapes.
Cedric Lockwood Morris was born on 11 December 1889 in Sketty, Swansea, the son of George Lockwood Morris, industrialist (ironfounder) and Wales rugby international, and his wife Wilhelmina (née Cory). He had two sisters - Muriel, who died in her teens, and Nancy (born in 1893). His mother had studied painting and was an accomplished needlewoman; on his father's side he was descended from the first baronet Morris, whose sister Margaret married Noel Desenfans and helped him and his friend, Francis Bourgeois to build up the collection now housed in the Dulwich Picture Gallery. Cedric was sent away to be educated, at St Cyprian's School, Eastbourne, and Charterhouse School in Godalming.
He failed the exams to enter the army as an officer, and at the age of 17 he set out on a steamship to Ontario, Canada, to work on a farm. After a succession of jobs, including as a dishwasher and bell boy in New York, he returned to South Wales, and then entered the Royal College of Music, London, to study singing. But he gave up singing for painting, and went to Paris, where from April 1914 he studied at the Academie Delacluse in Montparnasse before the interruption of World War I.
During World War I he joined the Artists Rifles, but before embarking for France was declared medically unfit for action in consequence of the effects of a failed operation during his childhood. As an experienced horseman, however, he was allocated to the training of remounts at Lord Rosslyn's stables at Theale, Berkshire. He worked in the company of Alfred Munnings, under Cecil Aldin. He was discharged from this when the army took over the Remounts in 1917