http://www.president.go.kr/cwd/kr/archive/archive_view.php?meta_id=news_data&id=82ac22596e12fe4a730339be
World Briefing: South Pacific, Asia, Africa, Europe

By THE ASSOCIATED PRESS
Published: April 20, 2006

ASIA

SOUTH KOREA WARNS JAPAN OVER SURVEY OF DISPUTED ISLETS
The South Korean government warned Japan not to carry out a maritime survey near two disputed islets, saying it would take "stern measures" if it did. The Japanese government said last week that it planned to survey the sea bed around the uninhabited islets, called Takeshima in Japan and Tokto in South Korea. A continuing dispute over the islets, which are under South Korea's control, has been a main source of strained relations between the countries in the past year. NORIMITSU onISHI (NYT)


http://www.nytimes.com/2006/04/20/world/20briefs.html


By THE ASSOCIATED PRESS
Published: April 25, 2006

While Koizumi has tightened Tokyo's relationship with its top ally, the United States, he has also overseen a sharp deterioration in relations with China and South Korea.

Both nations are boycotting summits with Koizumi because of his trips to Yasukuni Shrine, which honors Japan's war dead, including executed war criminals.

Koizumi's insistence on the visits has exacerbated other disagreements with Japan's neighbors over territorial claims, most recently a tiff with Seoul over a pair of volcanic islets.


http://www.nytimes.com/aponline/world/AP-Japan-Koizumi-Five-Years.html

S.Korea, Japan try to calm isles disputes

(Reuters)
Updated: 2006-04-22 11:02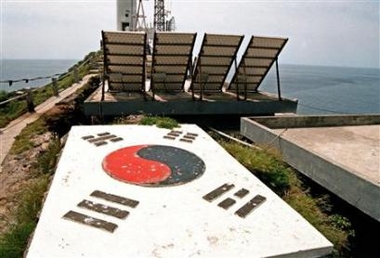 A sign in the shape of a South Korean flag is seen on desolate islands
called Tokto in South Korea and Takeshima in Japan,
in this undated photograph.
A senior Japanese envoy arrived in Seoul on Friday
to seek a middle ground in a standoff over a group of desolate islands
claimed by both countries that
has jarred an already strained relationship between the two. [AP]
http://www.chinadaily.com.cn/world/2006-04/22/content_574145.htm