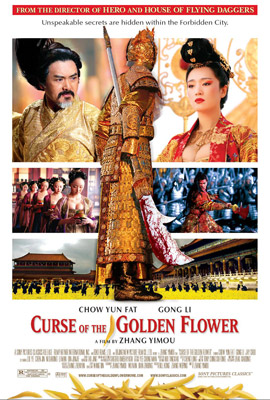 Curse of the Golden Flower (simplified Chinese: 满城尽带黄金甲; traditional Chinese: 滿城盡帶黃金甲; pinyin: Mǎnchéng Jìndài Huángjīnjiǎ), also known literally as When Golden Armor Covers the Entire City, is an Academy Award-nominated 2006 Chinese historical epic drama film directed by Zhang Yimou.
With a budget of $45 million, it is the most expensive Chinese film to date, surpassing Chen Kaige's The Promise.[1] It was chosen as China's entry for the Academy Award for Best Foreign Language Film for the year 2006;[2] it was not nominated in that category though it did receive a Costume Design nomination.
The title of the movie is taken from the last line of a Tang dynasty poem attributed to the rebel leader Huang Chao, on the Chrysanthemum, after failing the Imperial Examination" (不第後賦菊/不第后赋菊) or simply "Chrysanthemum":
| | | |
| --- | --- | --- |
| " | When autumn comes on Double Ninth Festival, / my flower [the chrysanthemum] will bloom and all others perish. / When the sky-reaching fragrance [of the chrysanthemum] permeates Chang'an, / the whole city will be clothed in golden armour. | " |
Due to the film's high profile while it was still in production, its title, which can be literally translated as "The Whole City is Clothed in Golden Armor", became a colorful metaphor for the spring 2006 sandstorms in Beijing and the term "golden armor" (黄金甲, huángjīnjiǎ) has since become a metaphor for sandstorms among the locals.[3]
http://www.sonyclassics.com/curseofthegoldenflower