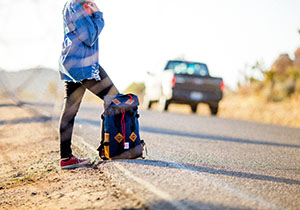 Victims of human trafficking face many hurdles, including the immediate need for a safe place to live. Programs for affordable housing typically have long wait lists and may restrict eligibility based on aspects such as rental history and current income, which pose challenges to many trafficking victims.
Consider "Sylfie," who had been sex trafficked for seven years. Even when she needed to go to the ER, the trafficker stayed right outside the room, keeping constant watch. She couldn't do or say anything that might tip off someone that she was being held against her will.
As they left the hospital, Sylfie passed a poster with the number for the Trafficking Hotline. She memorized it and, during time alone in the apartment where she was required to stay, called the hotline. The representative gave her several numbers for local organizations that could help. The first to return her call was Mosaic Family Services in Dallas, Texas, a grantee of the Office of Justice Programs' Office for Victims of Crime.
When the trafficker stepped out, Sylfie quickly packed her belongings, called Mosaic and left in a cab Mosaic sent to take her to an emergency shelter—her first step toward a life of freedom and safety. Soon, she was able to leave the shelter for Mosaic's transitional housing program. There, she also received food; medical and legal services; and emotional, job and education counseling, as well as a case manager to help in her quest for self-sufficiency. Thirteen months later, Sylfie lives in her own apartment and has a stable job.
Organizations are overwhelmed with the demand for transitional housing services, which Sylfie described as a lifeline. To help, OVC provides ongoing funding that enables grantees to provide safe, affordable and long-term housing for human trafficking survivors.
This year, OJP launches a brand new program to meet the housing need. Some 27 awards totaling $13.5 million are anticipated. Applications for the program number 159, which illustrates the great need. The grants will fund 6 to 24 months of transitional housing or short-term housing assistance for trafficking victims, including rental, utilities or related expenses, such as security deposits and relocation costs. The grants will also provide funding for support needed to help survivors locate permanent housing. OJP anticipates an additional $20 million to be allocated for this program in a second round of funding.
For more information, visit OVC's human trafficking website and OJP's Funding Resource Center.
***
미국 검사 윌리엄 M. 맥스웨인은 인신 매매 근절과 피해자 지원을 위해 3 천 6 백만 달러 이상 제공한다고 발표하다

United States Attorney William M. McSwain Announces More Than $36 Million Available to Fight Human Trafficking and Assist Victims
PHILADEPHIA, PA – United States Attorney William M. McSwain announced that more than $36 million in Department of Justice grants are available to help communities combat human trafficking and serve adults and children who are victimized in trafficking operations.
"Human trafficking is horrific crime – one that strips victims of their dignity and often leaves them traumatized, with lasting physical and emotional scars," said U.S. Attorney McSwain. "Human traffickers pose a serious threat to public safety, which is why the Department of Justice and my Office have made prosecution of these crimes a top priority. This is both a national and local problem, and these grants will help fund programs designed to assist those directly and indirectly affected by this serious issue."
"Human traffickers pose a dire threat to public safety and countering this threat remains one of the Administration's top domestic priorities," said Katharine T. Sullivan, Principal Deputy Assistant Attorney General for the Office of Justice Programs. "The Department of Justice is front and center in the fight against this insidious crime. OJP is making historic amounts of grant funding available to ensure that our communities have access to innovative and diverse solutions."
The funding is available through the Office of Justice Programs (OJP), the federal government's leading source of public safety funding and crime victim assistance in state, local, and tribal jurisdictions. OJP's programs support a wide array of activities and services, including programs that support human trafficking task forces and services for human trafficking survivors.
The following funding opportunities are currently available, with several more coming in the near future:
Missing and Exploited Children Training and Technical Assistance Program
https://ojjdp.ojp.gov/funding/opportunities/ojjdp-2020-17351
Total Available: $1.8 million
Deadline: April 6, 2020