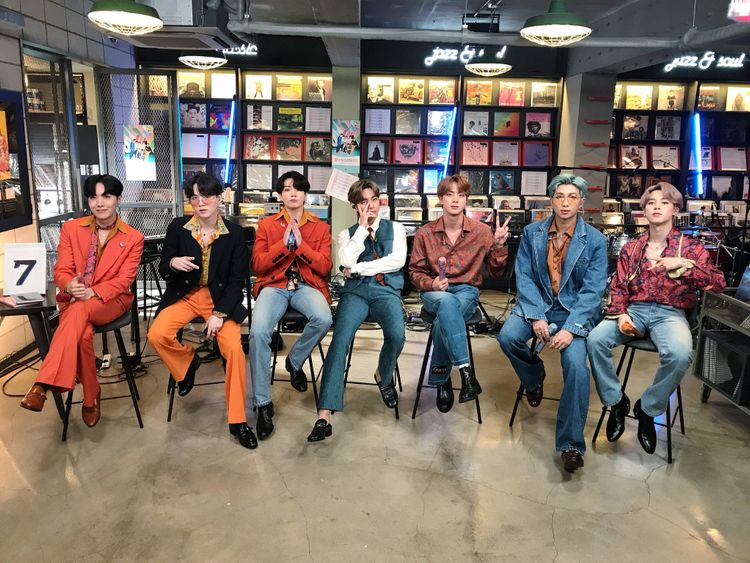 The Tiny Desk is working from home for the foreseeable future. Introducing NPR Music's Tiny Desk (home) concerts, bringing you performances from across the country and the world. It's the same spirit — stripped-down sets, an intimate setting — just a different space.
---
We've been trying to make a BTS Tiny Desk concert happen for years now — even gaming out ways we might move Bob Boilen's desk far enough forward to accommodate the superstar Korean boy band's dance moves.
BTS had intended to spend 2020 delighting the BTS Army in arenas around the world, only to spend these last few months performing in isolation. Released on the last day of a grim season, "Spring Day" provides a nice reminder of what awaits us on the other side. We just have to get through fall and winter first.
SET LIST
"Dynamite"
"Save ME"
"Spring Day"
MUSICIANS
V: vocals; Jin: vocals; Jimin: vocals; J-Hope: vocals; RM: vocals; SUGA: vocals; Jungkook: vocals; KHAN: drums; DOCSKIM: keyboard; Kim Kiwook: bass; Shyun: guitar
CREDITS
Video and Audio by: Big Hit Entertainment; Producer: Stephen Thompson; Audio Mastering Engineer: Josh Rogosin; Video Producer: Morgan Noelle Smith; Associate Producer: Bobby Carter; Executive Producer: Lauren Onkey; Senior VP, Programming: Anya Grundmann
Connect with BTS: https://ibighit.com/bts http://twitter.com/BTS_bighit http://twitter.com/BTS_twt http://www.facebook.com/bangtan.official https://www.youtube.com/user/BANGTANTV http://instagram.com/BTS.bighitofficial https://channels.vlive.tv/FE619 https://www.tiktok.com/@bts_official_... https://weverse.onelink.me/qt3S/94808190 https://www.weibo.com/BTSbighit https://www.weibo.com/BTSmembers http://i.youku.com/btsofficial http://btsblog.ibighit.com