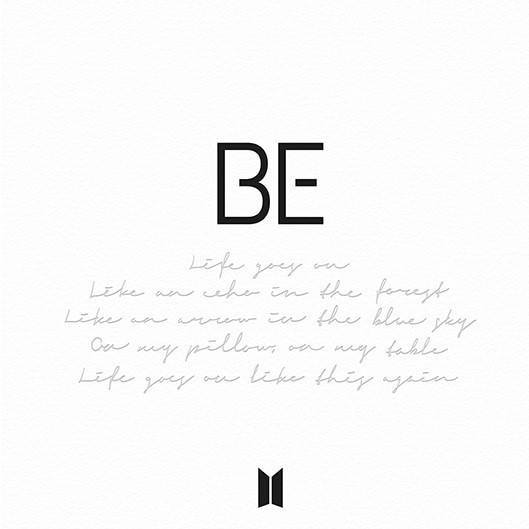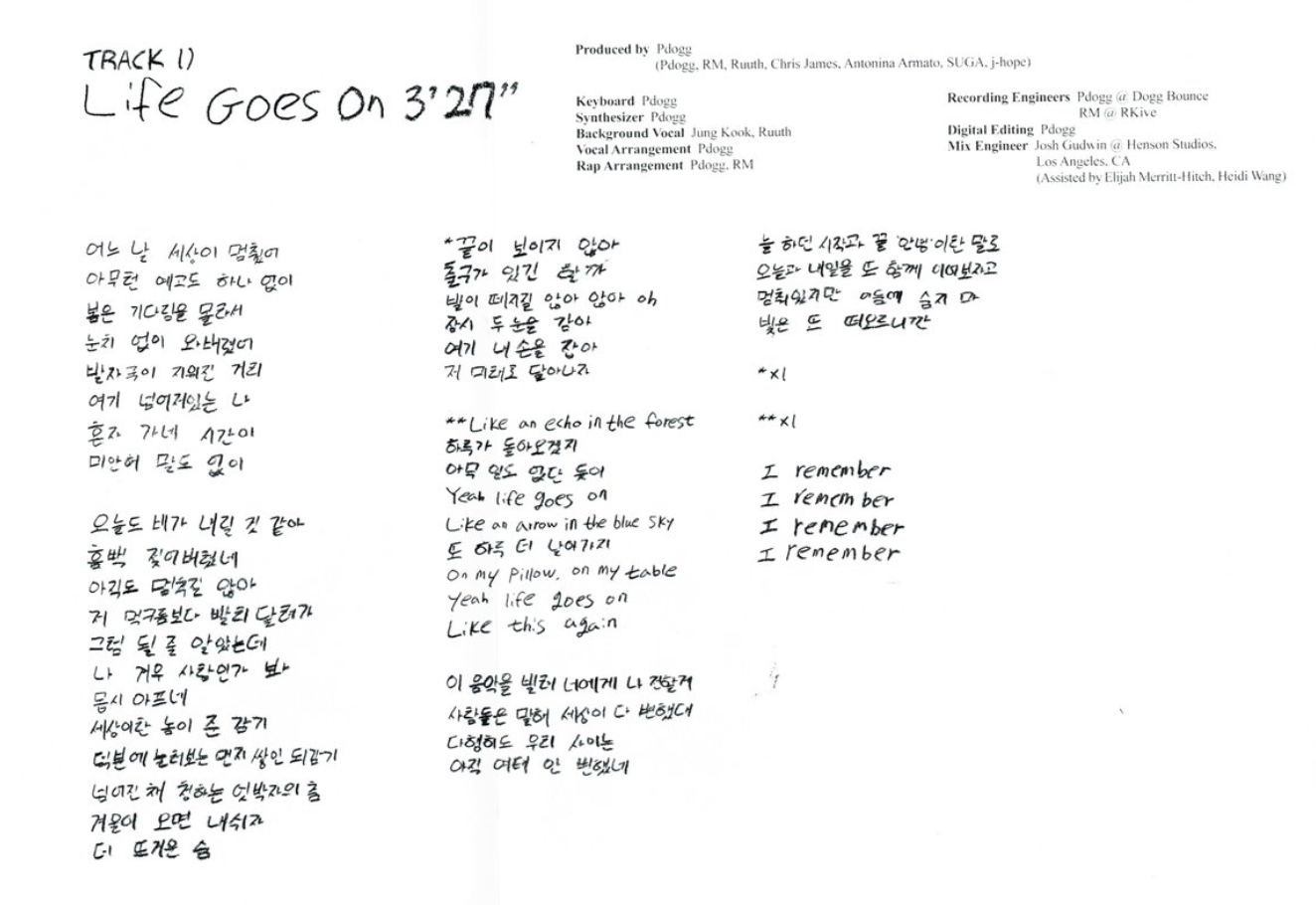 BTS is returning with their new album BE (Deluxe Edition) to unfold another chapter of 2020.
As a sense of helplessness looms in every corner of the world, BTS opens themselves up to express their mixed feelings about this situation—fear and anxiety mingled with the determination to overcome all this. The album consists of a total of eight tracks including the No.1 summer hit "Dynamite" and lead single "Life Goes On". The latter speaks on behalf of everyone stuck in the new normality brought on by COVID-19: one day, the world stopped without any warning, streets erased of footsteps and the way out is nowhere near in sight. BTS echoes in a low voice the comforting message that in the face of unexpected turns "Life Goes On" and extends their hands towards the future.
BE track listing
No.
Title

Writer(s)

Producer(s))
Length
1
"Life Goes On"

Antonina Armato Chris James J-Hop
Pdogg RM Ruuth Suga

Pdogg
3:27
2
"Fly to My Room"
내 방을 여행하는 법
How to travel in my room
by Suga, V, J-Hope, and Jimin

Cosmo's Midnight J-Hope
Joe Femi Griffith RM Suga

Cosmo's Midnight
3:42
3
"Blue & Grey"

Hiss Noise J-Hope Ji Soo Park
Levi Metaphor RM Suga V

Ji Soo Park Levi V
Hiss Noise

4:15
4
"Skit"

RM Jin Suga J-Hope
Jimin V Jung Kook

3:00
5
"Telepathy"


잠시

For a moment

El Capitxn Hiss Noise Jung Kook RM Suga

El Capitxn Hiss Noise

3:22
6
"Dis-ease"


병

Illness

Ghstloop Ivan Jackson Rosenberg J-Hope
Jimin Pdogg Randy Runyon RM Suga

Brasstracks
4:00
7
"Stay"


by RM, Jin, and Jungkook

Arston Jin Jung Kook RM

Arston
3:25
8
"Dynamite"

David Stewart Jessica Agombar

Stewart
3:19

Total length

28.30
BTS (방탄소년단) 'Life Goes On' Official MV Credits:
Director: Jeon Jung Kook
Assistant Director: Yong Seok Choi, Jihye Yoon (Lumpens)
Photo: Nu Kim
Director of Photography: Hyunwoo Nam (GDW)
Focus Puller: Sangwoo Yun
2nd AC: Eunki Kim
3rd AC: Kyuwon Seo
Gaffer: Choi Doo Soo (DS LIGHT)
Lighting Crew: Jung Yu Jin, Kim Jun O, Lee Seong Min, Kim Sung Wook, Lee Hyunsu
Art Director: Bona Kim, Jinsil Park (MU:E)
Assistant Art Team: Yeri Kang, Minjung Kim (MU:E)
Art-team Manager: ilho Heo (MU:E)
Visual Creative: Nu Kim, Sabinne Cheon, Lee Sun Kyoung, Kim Ga Eun, Cha Yeon Hwa
Artist Management: Kim Shin Gyu, Kim Su Bin, Kim Dae Young, Park Jun Tae, An Da Sol, Ahn Jong Hun, Yun Tae Woong, Lee Seung Byeong, Lee Jung Min, Lee Hyeon Ki
Connect with BTS:
http://www.facebook.com/bangtan.official
https://www.youtube.com/user/BANGTANTV
http://instagram.com/BTS.bighitofficial
https://channels.vlive.tv/FE619
https://www.tiktok.com/@bts_official_...
https://weverse.onelink.me/qt3S/94808190
https://www.weibo.com/BTSbighit
https://www.weibo.com/BTSmembers
http://i.youku.com/btsofficial
en.wikipedia.org/wiki/Be_(BTS_album)