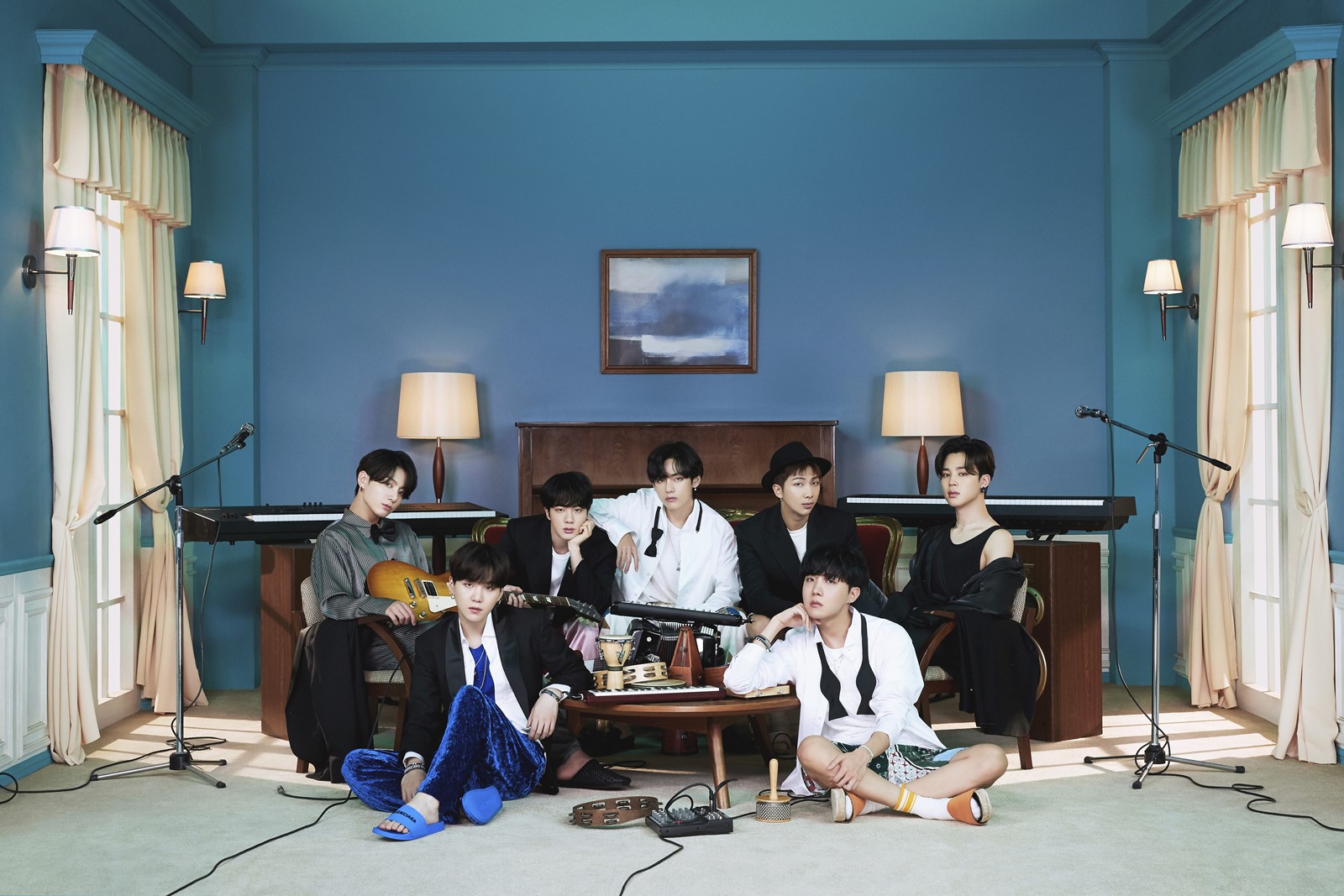 BTS - Life Goes On - GMA
BTS - Life Goes On - The Late Late Show
BTS - Life Goes On & Dynamite - The Late Late Show
For BTS, what will be will 'Be'
On 'pandemic album,' K-pop superstars long for better times, then dance through tears.
It's far from escapist — the album speaks directly to the COVID-19 pandemic and its consequences, at least in how it's felt for fans and artists. But it also sports "Dynamite," a peak achievement in pure fun that's already topped the Billboard Hot 100, a goal the band's been eyeing for years. By the end of its half-hour runtime, "Be" hits a note that's pretty hard to capture today: It's hopeful.
The band members — RM, Jin, Suga, Jimin, J-Hope, V and Jungkook — said the time off the road because of the pandemic gave them a fresh chance to dive into songwriting, production and visual concepts for the album.
Many of K-pop's creative choices are typically directed from a label's back office, but BTS earned its following by being more hands-on. That's true now more than ever: Jimin's credited with the LP's A&R, overseeing the album's music direction. Jin, Suga, J-Hope and Jungkook all get production credits. The band has cowriting credits on all but one song.
The group's powerful fan base, known as ARMY (Adorable Representative M.C. for Youth), has come to expect BTS to veer left when other K-pop acts swerve right, and the first few songs on "Be" will come as a nonsurprising surprise: gentle throwback hip-hop, a little melancholy and nostalgic, but zeroed in on the world as fans see it now.
"Life Goes on" and "Fly to My Room" set the tone immediately: pitch-tweaked samples that evoke a longing for better times. The lyrics, in Korean and English, are both resilient and resigned: "Life goes on / Like an arrow in the blue sky / Another day flying by / On my pillow, on my table / Yeah, life goes on like this again."
But BTS finds new shades in the fear and monotony of this moment. "Blue & Grey" is already a fan favorite: a ribbon of immaculate bedroom emo, gorgeously harmonized but never show-offy or overpowering. It's one of the exemplary songs of the "pandemic-pop" era.
...
enewspaper.latimes.com/infinity/article_share.aspx?guid=74658b00-543d-4ab7-86af-71088bcfcd2f
By August Brown
Connect with BTS:
http://www.facebook.com/bangtan.official
https://www.youtube.com/user/BANGTANTV
http://instagram.com/BTS.bighitofficial
https://channels.vlive.tv/FE619
https://www.tiktok.com/@bts_official_...
https://weverse.onelink.me/qt3S/94808190
https://www.weibo.com/BTSbighit
https://www.weibo.com/BTSmembers
http://i.youku.com/btsofficial
en.wikipedia.org/wiki/Be_(BTS_album)