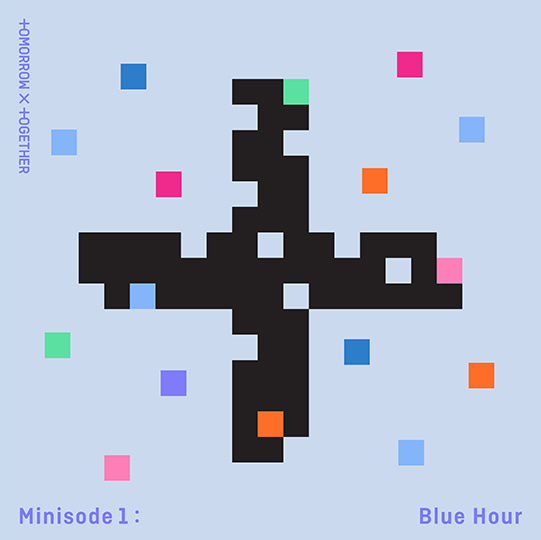 3RD MINI ALBUM
MINISODE1 : BLUE HOUR
TOMORROW X TOGETHER (SOOBIN, YEONJUN, BEOMGYU, TAEHYUN, HUENINGKAI) are releasing their third mini-album, "minisode1 : Blue Hour" on October 26.
TOMORROW X TOGETHER not only reaffirmed their skills and stunning visuals with their second mini album, "The Dream Chapter: ETERNITY", but also cemented themselves as the new icon of growth by continuously breaking their own records in both album and song sales.
They brought themselves to prominence by reaching new heights: they topped "Top Album" charts in 50 countries and regions around the world; and their song was selected as "2020's Song of the Summer" by Radio Disney, one of America's most prominent broadcasters. Now the five members are back as "the kings of innocence." For their second year of debut in 2020, the members are making their way back into the hearts of fans all around the world with their new album brimming with stories only they can tell, armed with "innocence uniquely TOMORROW X TOGETHER" as the world faces the unique and unprecedented challenges of the COVID-19 pandemic.
TXT (투모로우바이투게더) '날씨를 잃어버렸어' Official MV - Nov 12, 2020
Director: Nuri Jeong (COSMO)
Assistant Director: Hanwool Jung
Producer: KEEPUSWEIRD
Director of Photography: Giung Seo Focus
Puller: Chihun Lim
2nd AC: Minhyuk Hong
3rd AC: Jeonghoon Kang
DIT: Seungbeom Jeon Jimmy
Jib: Youngjung Kim Jimmy
Jib Assistant: Hyeonin Kim, Seonghun Kim, Yunhyun Kim
Gaffer: Youngshin Ha (VIT Lighting)
Electrics: Hyeok Park, Daejin Kim, Hwayong Jeong, Hanbit Kang, SeongHyeok Kim
FPV Drone: Minjae Lee FPV Drone
Assistant: Euntae Lee
Art Director: Sangseon Kim (Fakenine)
Art Assistant: Boeun So, Jina Oh, Siyul Kim, Sangye Kim
PA: Jungho Kee, Yoochang Lee, Taein Jung, Jinjoo Park
Special Effects: (주)몬스터 HyeonJun Lee, Gijeong Park, Since Park, Jeongmin Lee, Hyeongwon Kim
VFX: RECORD
Colorist: Haewon Kwak (Lucid Color)
Colorist Assistant: Jaeyeon Baek
Visual Creative : Nu Kim, Lee Hyun Ju, Jung Su Jung, Rakta
Artist Management: Kim Shin Gyu, Yang Jun Hyeong, Kim Ji Soo, Shin Seung Chan
Performance Directing : Son Sung Deuk, Kim Su Bin, Kwon Yoo Jung, Hyewon Park
Minisode1: Blue Hour track listingNo.TitleWriter(s)Producer(s)Length1.2.3.4.5.
No.
Title
Writer(s)
Producer(s)
Length
1
Ghosting

Boeun Kim, Chris James, David Charles Fischer, Slow Rabbit, Erin McCarley, Heejoo Lee, Jaekyu Jung, Jeongmi Kim, Jieun Jeon, Huening Kai, Kyler Niko, Lennon Stella, Ru Uth, Sueran Lee, Sonjong Hwang, Soobin, Submin Kim, Taehyun, Wuhyun Park, El Capitxn

El Capitxn

3:43
2
Blue Hour

5시 53분의 하늘에서 발견한 너와 나

Slow Rabbit, Kyler Niko, Lil 27 Club, "Hitman" Bang

Slow Rabbit

3:29
3
We Lost the Summer


날씨를 잃어버렸어

Charli XCX, Charlotte Grace Victoria Lee, Colton Ward, Slow Rabbit, Pdogg, Kyle Bladt Knudsen, Lil 27 Club

Slow Rabbit, Pdogg

3:31
4
Wishlist

Boeun Kim, Cazzi Opeia, Slow Rabbit, Ellen Berg, Heejoo Lee, Huening Kai, Melanie Joy Fontana, Micheal "Lindgren" Schulz, Minyoung Yoon, Sam Klempner, Sueran Lee, "Hitman" Bang, Taehyun, Wuhyun Park, Yeonjun, Yunkyoung Cho

Sam Klempner

3:12
5
Way Home

하굣길

Daewook Chung, Heejoo Lee, Hyojung Shin, Huening Kai, Melanie Joy Fontana, Micheal "Lindgren" Schulz, "Hitman" Bang, Sofia Kay, Adora, Subin Kim, Sunjae Oh, Taehyun, Wonderkid, Wuhyun Park, Yeonjun

Wonderkid, Shinkung
3.03
16.18
Connect with TOMORROW X TOGETHER:
https://twitter.com/TXT_bighit
https://www.facebook.com/TXT.bighit
https://www.youtube.com/txt_bighit
https://www.instagram.com/txt_bighit
https://www.weibo.com/TXTbighit