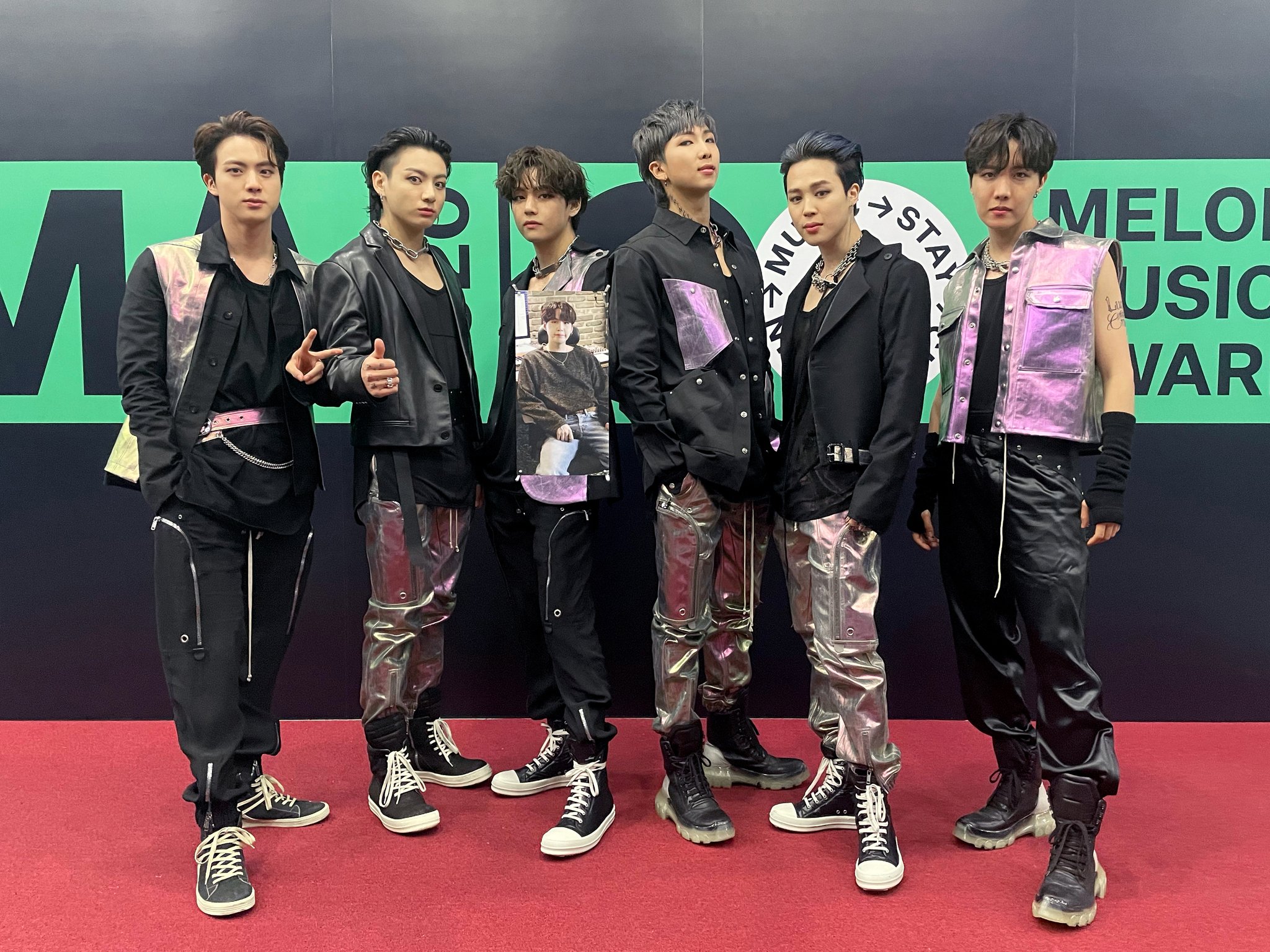 BTS swept the Daesang categories for the second year in a row at the Melon Music Awards 2020!
The Melon Music Awards 2020 were held from December 2 to 5, with the main ceremony taking place on December 5.
Prior to the main ceremony, BTS had been announced as one of Melon's Top 10 Artists of 2020. IU's "eight," produced by and featuring BTS' Suga, also won in the Best Rock category.
At the main ceremony, it was announced that BTS had won all three Daesangs (grand prizes) given out this year at the Melon Music Awards: Artist of the Year, Album of the Year ("Map of the Soul: 7"), and Song of the Year ("Dynamite"). In addition to the awards mentioned above, BTS also took home the Best Dance (Male) award for "Dynamite" and the Netizen's Choice award, bringing the group's MMA 2020 total to six awards (seven including IU and Suga's Best Rock collaboration).
In their speech for Artist of the Year, RM said, "To be honest, it doesn't feel comfortable to be receiving such a meaningful award during these difficult times. This year, we weren't able to meet with fans face-to-face. It has been almost a year since we were able to perform with fans in-person. I believe many artists feel the same as we do. Everyone, it's been a hard year, right? At the start of all this, we felt so much anger and resentment and despair and displeasure, displeasure at so many things. We tried to do the music we could and filmed music videos and worked hard. At some point, we were able to accept reality. As humans, we were able to adapt and get used to the circumstances. But that was scary because we shouldn't get used to it. We are supposed to share contact with other human beings, and getting used to not doing that was a scary reality. But ironically, we realized this year that the sincere feelings we spread throughout the world were not in vain. Although we cannot see each other or hold each other's hands or embrace each other, we are connected and our minds are reaching out for each other. We realized that anew through 'BE' and 'Dynamite.' Through your letters and your words, we felt your love. Although we can no longer perform in front of an audience, so many artists this year sat in their room or their studio and did their best to make great music. From artists to fans to listeners, we all began and ended our days with the same music and did our best to connect with each other. I don't know what will happen in the future, but let us use music to reach out to each other and hold on together through the long winter until spring comes again. The seasons will come back around, and life goes on, and I believe that the spring will come again."
Connect with BTS:
http://www.facebook.com/bangtan.official
https://www.youtube.com/user/BANGTANTV
http://instagram.com/BTS.bighitofficial
https://channels.vlive.tv/FE619
https://www.tiktok.com/@bts_official_...
https://weverse.onelink.me/qt3S/94808190
https://www.weibo.com/BTSbighit
https://www.weibo.com/BTSmembers
http://i.youku.com/btsofficial
en.wikipedia.org/wiki/Be_(BTS_album)
www.soompi.com/article/1441812wpp/bts-sweeps-all-daesangs-at-melon-music-awards-for-second-year-in-a-row