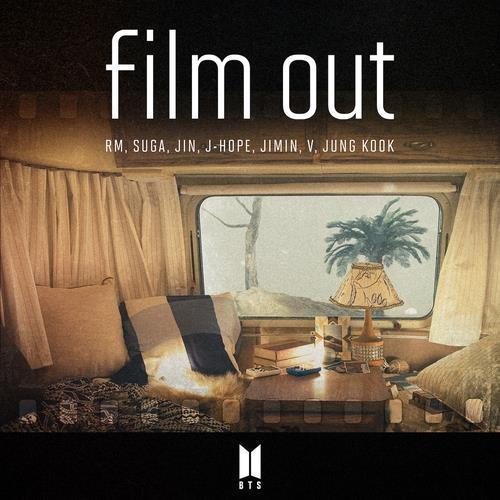 BTS (방탄소년단) 'Film out' Official MV Apr 1, 2021
You, in my imagination Are so vivid, oh-oh As if you are right there
But I reach out my hand And you suddenly disappear
From all the memories stored in my heart I gather up the ones of you, link them together
Gazing at them projected across the room I feel you with every burst of pain
Oh-oh La-la-la, la-la-la La-la-la, la-la-la La-la-la, la-la-la Oh-oh La-la-la, la-la-la La-la-la, la-la-la La-la-la, la-la-la
Decay too far gone absorbing no light or water Sealing my wounded heart with a rootless, leafless vow
Two glasses placed side by side, their role Never fulfilled, ah, just as thеy were Since you last touchеd them
From all the memories stored in my heart I gather up the ones of you, link them together
Gazing at them projected across the room I feel you with every burst of pain
Don't have to be right Just wanted you to stay the way you are Kind hearted, always smiling, but If tears can be measured, it took this long but I've barely made it by your side (Barely made it) And found you (Ooh)
From all the memories stored in my heart I gather up the ones of you, link them together Gazing at them projected across the room (Ooh, oh, oh, oh, ooh) I fall asleep with you vivid in my arms
The words you whisper, the resonance Wander aimlessly around the room
The fragrance I smell, the warmth I feel As long as it lasts, as long as it lasts
You, in my imagination Are so vivid, oh As if you are right there
But I reach out my hand And you suddenly disappear
浮かび上がる君は あまりに鮮やかで Oh-oh まるでそこにいるかと 手を伸ばすところで ふっと消えてしまう
淡々と降り積もった記憶の中で 君だけを拾い集めて繋げて
部屋中に映して眺めながら 込み上げる痛みで 君を確かめている
Oh-oh La-la-la, la-la-la La-la-la, la-la-la La-la-la, la-la-la Oh-oh La-la-la, la-la-la La-la-la, la-la-la La-la-la, la-la-la
光も水も吸わないくらいに腐敗して 根も葉も無い誓いで 胸の傷を 塞いで
並ぶ2つのグラス 役割果たす 事もなく ああ そのままで 君の触れたままで
淡々と降り積もった記憶の中で 君だけを拾い集めて繋げて
部屋中に映して眺めながら 込み上げる痛みで 君を確かめている
正しくなくていいからさ 優し過ぎる君のまま 笑ってて欲しかっただけなのに それなのに 涙の量計れるなら
随分遅ればせながら やっと今君のとなりまで 追い付いて (追い付いて) 見付けたのさ (Ooh)
淡々と降り積もった記憶の中で 君だけを拾い集めて繋げて 部屋中に映して眺めながら (Ooh, oh, oh, oh, ooh)
何ひとつ消えない君を抱きしめて眠る
君がささやく言葉がその響きが 行き場を失くして
部屋を彷徨ってる 嗅いでしまった香りが 触れた熱が 残ってるうちは 残ってるうちは
浮かび上がる君は あまりに鮮やかで Oh まるでそこにいるかと 手を伸ばすところで ふっと消えてしまう
"Film Out" was announced by BTS on February 16, 2021, as the ending theme for Signal the Movie Cold Case Investigation Unit (2021). The song was written by BTS member Jungkook in collaboration with the lead vocalist of Japanese rock power trio Back Number, Iyori Shimizu, and the track's producer UTA. A ballad number, "Film Out" was eventually revealed to be the opening track on BTS' upcoming Japanese-language compilation album, BTS, the Best, slated for release in June 2021. The song was released for digital download and streaming in various countries on April 2, 2021, through Universal Music Japan.
Connect with BTS:
http://www.facebook.com/bangtan.official
https://www.youtube.com/user/BANGTANTV
http://instagram.com/BTS.bighitofficial
https://channels.vlive.tv/FE619
https://www.tiktok.com/@bts_official_...
https://weverse.onelink.me/qt3S/94808190
https://www.weibo.com/BTSbighit
https://www.weibo.com/BTSmembers
http://i.youku.com/btsofficial
en.wikipedia.org/wiki/Be_(BTS_album)