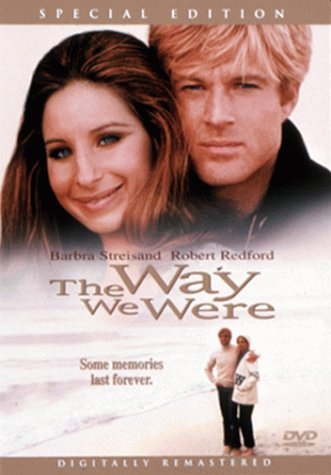 The Way We Were (1973)
Sydney Pollack directs Robert Redford and Barbra Streisand in this sensitive and moving tale of the romance of two individuals whose political ideologies are exact opposites. Streisand won an Academy Award nomination for her performance as Katie Morosky, a Jewish student radical who falls in love with Hubbell Gardner (Redford), a conservative privileged writer. The two interact from the beginning of their college courtship through the Hollywood-blacklisting era of the 1950s.

Genres:
Drama
Running Time:
118 min.
Release Date:
October 17th, 1973
MPAA Rating:
PG
Distributors:

Columbia Pictures
National Board of Review - 1973
| | | |
| --- | --- | --- |
| Category | Nominee | Win/Nominated |
| Best Picture | | Nominated |
http://movies.yahoo.com/movie/1800134057/info
http://barbra-archives.com/Films/streisand_waywewere.html
The Way We Were
Mem'ries,
Like the corners of my mind
Misty water-colored memories
Of the way we were
Scattered pictures,
Of the smiles we left behind
Smiles we gave to one another
For the way we were
Can it be that it was all so simple then?
Or has time re-written every line?
If we had the chance to do it all again

Tell me, would we? could we?
Mem'ries, may be beautiful and yet
What's too painful to remember
We simply choose to forget
So it's the laughter
We will remember
Whenever we remember...
The way we were...
The way we were...

24905