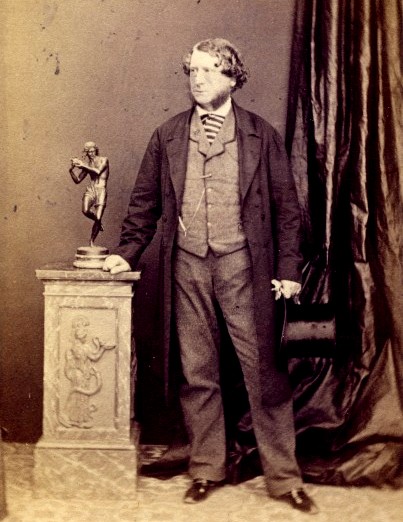 William Dyce FRSE RSA RA (19 September 1806, Aberdeen – 14 February 1864, London) was a distinguished Scottish artist, who played a significant part in the formation of public art education in the United Kingdom, as perhaps the true parent of the South Kensington Schools system.
Dyce began his career at the Royal Academy schools, and then traveled to Rome for the first time in 1825. While he was there, he studied the works of Titian and Poussin. He returned to Rome in 1827, this time staying for a year and a half, and during this period he appears to have made the acquaintance of the German Nazarene painter Friedrich Overbeck. After these travels, he settled for several years in Edinburgh. He supported himself by painting portraits at first, but soon took to other subjects of art, especially the religious subjects he preferred.
He was given charge of the School of Design in Edinburgh, and was then invited to London, where he was based thereafter, to head the newly established Government School of Design, later to become the Royal College of Art. Before taking up this post in 1838 he and a colleague were sent to visit France and Germany to enquire into design education there and prepare a report. He left the school in 1843, to be able to paint more, but remained a member of the Council of the school. The ideas that were turned in the following decade into the "South Kensington system" that dominated English art education for the rest of the century really have their origin in Dyce's work.